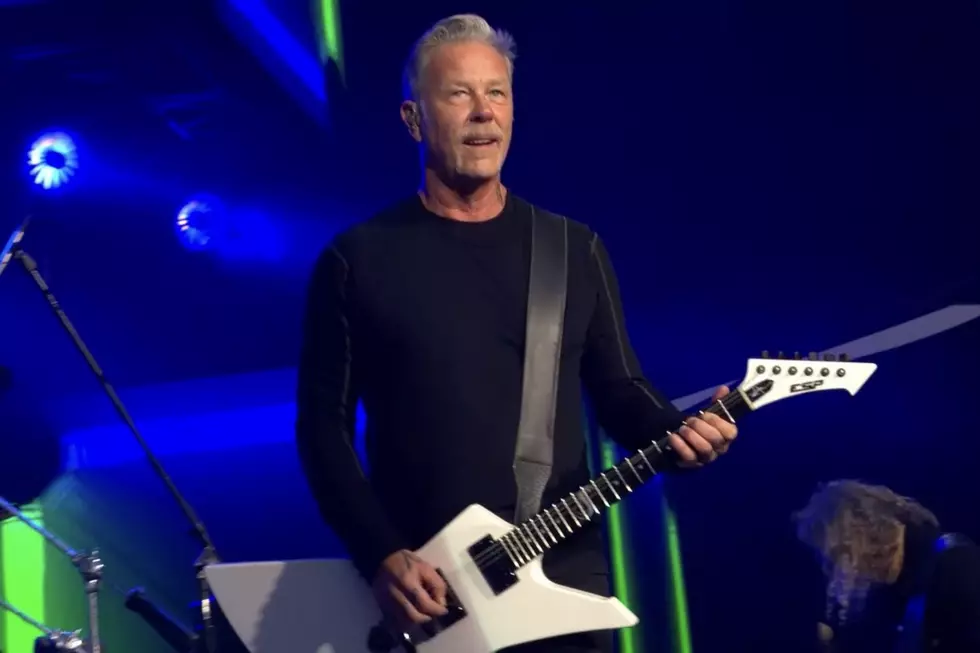 Metallica Release More Shows From European Tour to Download + Stream
Metallica via nugs.net
As Metallica continue to rock Europe, they have released two new concerts for fans to stream and download.

You can grab Metallica's complete set at Prague Rocks on June 22 via LiveMetallica.com and nugs.net, as well as the band's gig from Download Germany on June 24 via LiveMetallica.com and nugs.net.
(As of right now, Metallica have not released details on whether or not fans will be able to download and stream their show at Firenze Rocks in Florence, Italy, on June 19. Since you can still pre-order the CD of the show, we're guessing the download details will be coming soon.)
In addition to streaming and downloading hundreds of Metallica shows, did you know that you can also watch some of Metallica's recent concerts, too? If you're a nugs.net subscriber and have the app, you can watch six full shows from their South American tour and they've also just added their explosive set on June 15 at COPENHELL in Copenhagen.
Metallica performed at Hellfest on Sunday, June 26, and have five more dates in Europe before heading back to the states for their headlining spot at the opening night of Lollapalooza in Chicago. Currently, they only have two dates following Lolla: Buffalo on Aug. 11, and Pittsburgh on Aug. 14.
You can follow along with Metallica's tour schedule here, and as more shows are released to download—and as the band shares pro-shot live videos from their European gigs—we will keep you updated.
Watch Fan-Shot Footage of Metallica Performing "Creeping Death" at Hellfest
Metallica Fans Share Some of Their Favorite Lyrics
We asked you
, the Metallica Family, what your favorite lyrics from the thrash legends are—and you answered. Though we aren't sharing every single response here, we've picked some of our favorites. In the gallery below, you'll see the lyrics, the song name and even the social media handle of each Metallica fan. What's your favorite lyric or line from a 'Tallica tune? Which one did we totally miss?
Send us a message in our app
and let us know.
Some of Our Favorite Live Photos of Robert Trujillo
If you've ever seen Metallica live in the last 20 years, you know how much of a monster Robert Trujillo is onstage. From his signature helicopter spin to his barking vocals, Trujillo is a musician few can imitate. We could share thousands of photos of Trujillo doing what he does best, but we decided to trim it down to just a few of our favorites.
Sometimes in rock bands, you'll find the bassist is more subdued or prefers to stay away from the spotlight. With Trujillo, he commands the attention of the crowd—and often, the attention of his bandmates—and Metallica's live shows are better because of it.
Check out some of our favorite live shots of Trujillo below, going all the way back to when he first joined the band in 2003.