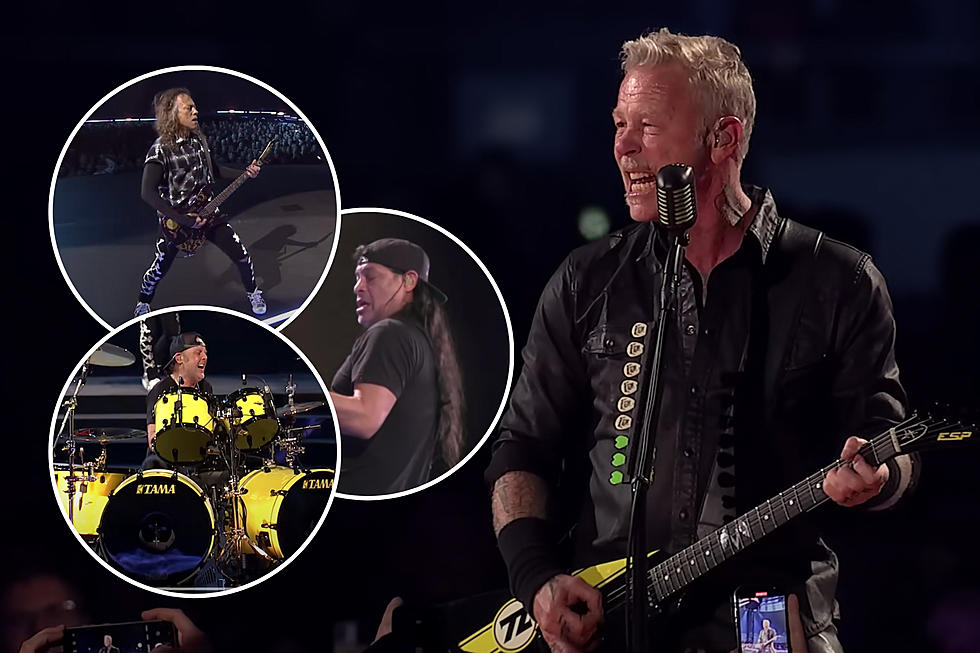 Watch Metallica's Live Debut of 'Screaming Suicide' in Amsterdam
Metallica via YouTube
On Thursday, April 27, Metallica performed their first show of 2023 and the first show of their global M72 tour in support of 72 Seasons.
The concert took place at the Johan Cruijff Arena in Amsterdam, a huge soccer stadium with a capacity of more than 56,000; the last time Metallica performed at the stadium was on June 11, 2019, as part of their WorldWired tour supporting 2016's Hardwired...to Self-Destruct.
As fans eagerly await the band's next concert—May 17 in Paris, France—Metallica have released a professionally-shot video of their live performance of "Screaming Suicide." You can watch it in the video player near the end of this article.
This performance marked the live debut of the 72 Seasons track and Metallica played two other songs from their new album, including "Lux Æterna" and "Sleepwalk My Life Away," the latter making its debut onstage, too.
As Metallica have done for years, they recorded the full performance and will make it available for fans to download, stream and purchase; you can pre-order the CD of this concert at this location.
Forty-eight hours after opening the M72 tour, as promised, Metallica returned to the arena for a second night with no repeats in the setlist.
Night two featured three more tracks from 72 Seasons, including the title track, "If Darkness Had a Son" and the debut of "You Must Burn!," and Metallica also included some live rarities in the set, like "Leper Messiah," "Until It Sleeps" and "The Call of Ktulu."
READ MORE: 10 Things We Love About Metallica's New Album, 72 Seasons
Metallica have several dates left in Europe before making their way to the States; their first M72 show in America is set for Aug. 4 and 6 at MetLife Stadium in East Rutherford, N.J.; you can find their full tour itinerary—which includes two headlining performances at the 20th anniversary of the Download Festival in England—here.
Watch Metallica Perform "Screaming Suicide" Live in Amsterdam
See Photos From the First Two Nights of Metallica's '72 Seasons' Tour
Photos from the first two nights of Metallica's 72 Seasons tour.
Metallica: The Week They Released '72 Seasons'
There's no question that Metallica's new album, 72 Seasons, was already one of the world's most anticipated releases of the year when it came out on April 14. Leading up to that release, Metallica only upped the anticipation with performances and appearances on Jimmy Kimmel Live! and The Howard Stern Show and with their global listening party on Thursday, April 13. There was a lot more that happened to celebrate the release, too, so we put together some of our favorite moments of the 72 Seasons release week in the gallery below.