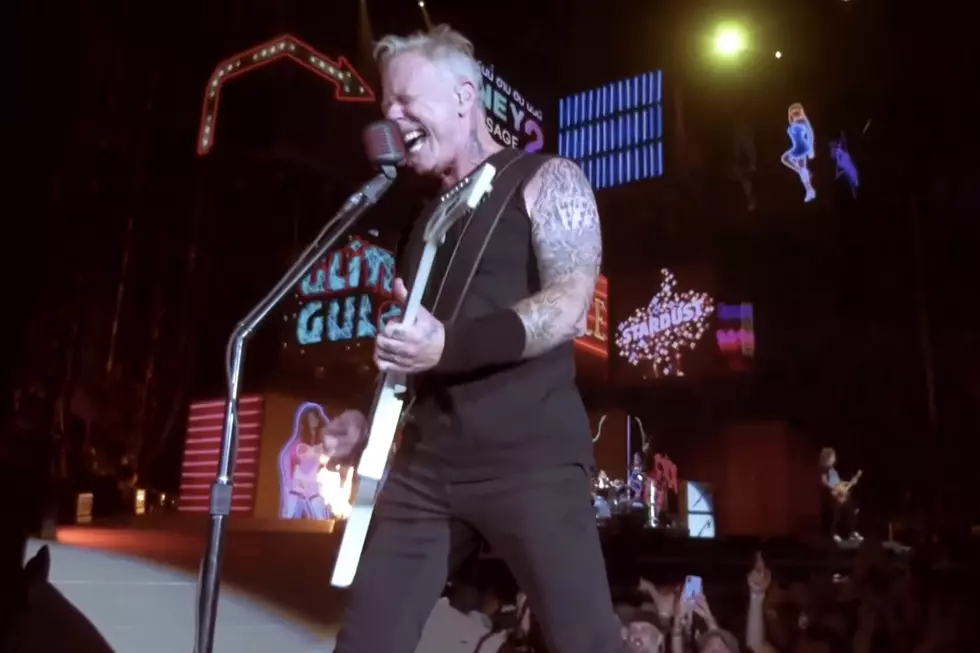 'Blacked Out': Watch Metallica Rock 'Moth Into Flame' Live in Italy
Metallica via YouTube
Considering they've only been playing it since 2016, "Moth Into Flame" has quickly become a regular part of Metallica's live set. They've already performed it at nearly every single show of 2022, including their run of European gigs beginning with their concert in Copenhagen on June 15.

Now, they're sharing one of the most recent performances of the Hardwired...to Self-Destruct track as their latest pro-shot live video. You can watch "Moth Into Flame" live at Firenze Rocks in Florence, Italy, on June 19, in the video below.
Watch Metallica Perform "Moth Into Flame" Live in Florence
The performance of "Moth Into Flame" at Firenze Rocks marked Metallica's 175th time playing the song. The first time they ever shared it with fans from the stage was on Sept. 27, 2016, at the epic club show at New York City's Webster Hall. That day was important for a number of reasons, including the fact that it was the 30th anniversary of Cliff Burton's death.
As fans can quickly see at the beginning of the newly-released video, Metallica are having a blast playing over all Europe. The video opens with Robert Trujillo and James Hetfield goofing around, playing the other's instrument, and then Hetfield messes up his intro for the song.
"That's an eight-count, James," he told himself. "Be professional."
Fans can download and stream the whole Firenze Rocks set at LiveMetallica.com and nugs.net.
Hardwired...to Self-Destruct was released on Nov. 18, 2016, and in less than six months it was certified Platinum. "Moth Into Flame" was the second official single released from the record.
Our Favorite Metallica Cover Art — Singles
This was no easy task, and there's no doubt that many will have their own personal favorite cover art that they think should be included in this collection. From looking at absolutely killer artwork created by Brian Schroeder—better known to 'Tallica fans as the artist Pushead—and awesome shots of the band to hand-drawn cover art by James Hetfield himself, these are 10 covers that we love.
Metallica Fans Share Some of Their Favorite Lyrics
We asked you
, the Metallica Family, what your favorite lyrics from the thrash legends are—and you answered. Though we aren't sharing every single response here, we've picked some of our favorites. In the gallery below, you'll see the lyrics, the song name and even the social media handle of each Metallica fan. What's your favorite lyric or line from a 'Tallica tune? Which one did we totally miss?
Send us a message in our app
and let us know.