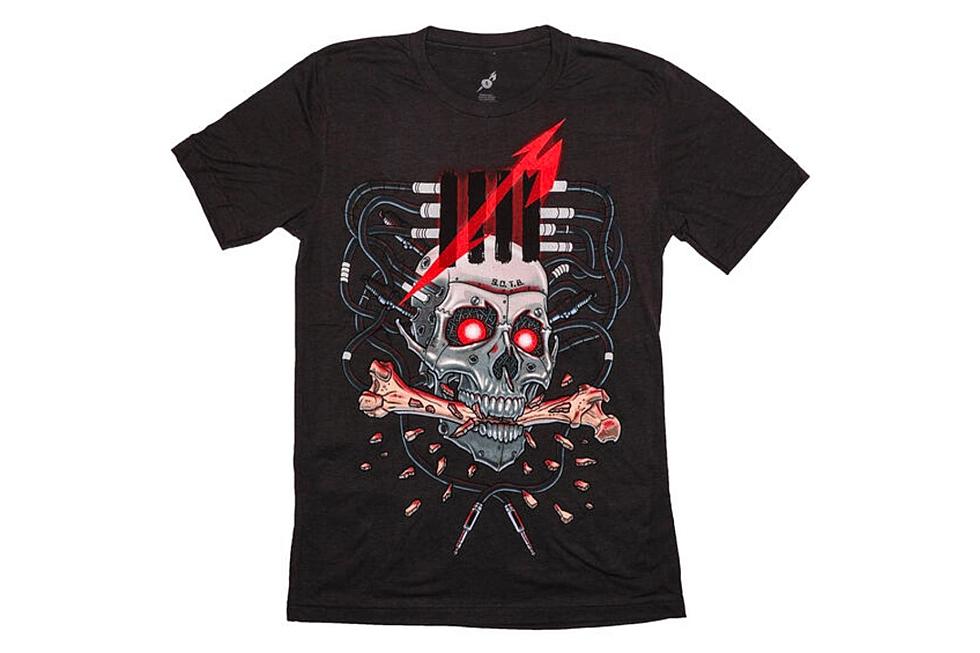 Metallica Release Brand-New T-Shirt Inspired by 'Spit Out the Bone'
Official Metallica Website, Metallica.com
Metallica are no strangers to badass T-shirts. Throughout their career, they've created some of the most iconic pieces of rock and roll clothing, and 40 years into things, they keep pulling out surprises.
In honor of "Spit Out the Bone" from 2016's Hardwired...to Self-Destruct—one of the heaviest tracks they've ever recorded—Metallica have released a brand-new T-Shirt inspired by its lyrics.
Metallica's "Spit Out the Bone" T-Shirt
The T-shirt features art created by Brian Ewing, and it lives up to the intensity of the studio track. Lyrics like, "Long live machine / The future supreme / Man overthrown / Spit out the bone," are perfectly captured in the futuristic and violent artwork. And as if the T-shirt itself wasn't cool enough, it's also an exclusive T-shirt, only available to members of Metallica's Fifth Member fan club.
You can get details on the T-shirt at Metallica's official online store.
"Spit Out the Bone" quickly became a fan favorite when Hardwired was released and Metallica have been sliding it in their setlists more and more over the last few years. They first played it on Oct. 24, 2017, in London, and last pulled it out at their first 40th anniversary concert on Dec. 17, 2021, in San Francisco.
If you haven't yet, make sure you stream or download both of Metallica's 40th anniversary shows via LiveMetallica.com and Nugs.
Watch Metallica's Music Video For "Spit Out the Bone"
Photos From Metallica's 40th Anniversary Show
Photos from the first show of Metallica's 40th anniversary celebration at the Chase Center in San Francisco.
Metallica: A Photo Timeline of Their Remarkable Career