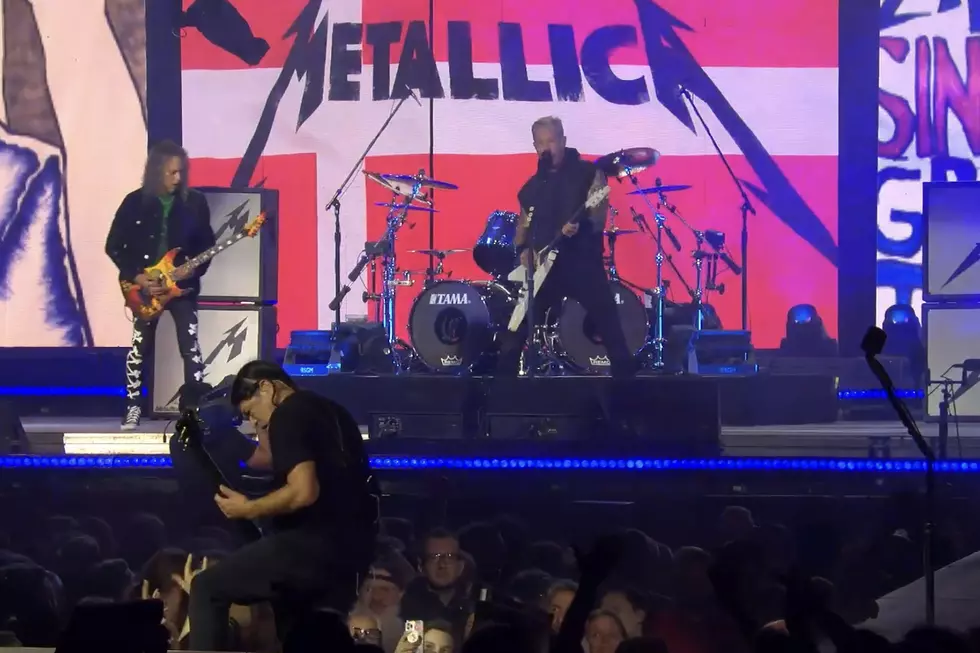 Metallica Release Pro-Shot Live Video of 'Damage, Inc.' at COPENHELL
Metallica via YouTube
Back on Nov. 14, 2021, Metallica gave fans at Welcome to Rockville a big surprise when they opened their encore with the Master of Puppets rocker, "Damage, Inc." This marked the first time in almost a decade that 'Tallica pulled out the classic thrash tune and only the 295th time they performed it since debuting it onstage on March 27, 1986, in Wichita, Kansas.

Metallica have played it with a bit more frequency in 2022, relatively speaking: They've brought it out three times across Europe so far, first in Copenhagen, then in Florence, and most recently, in Prague.
To celebrate the song and its always-intense performance, Metallica have released a pro-shot live video of "Damage, Inc." at their COPENHELL gig in Copenhagen on June 15. Check it out and crank it up below.
Watch Metallica Perform "Damage, Inc." in Copenhagen
As we've shared in previous stories, Metallica's Copenhagen show was one for the history books, thanks in large part to the fact that they closed the night with "Master of Puppets" and moved "Enter Sandman" to the third song in the set.
But their performance of "Damage, Inc." made a bit of history, too, as it was the first time they played it live in Copenhagen in 13 years; the last time they included it in a Copenhagen setlist was on July 22, 2009, at the Forum København. And at that performance, it was the first time in 12 years that they played it in the Danish capital city.
Extra Credit: Download Metallica's Firenze Rocks Concert
In addition to their Copenhagen show, Metallica have released a number of their European concerts in full for fans to stream and download. Most recently, they've shared their set at Firenze Rocks in Florence, Italy, on June 19; you can grab it at LiveMetallica.com or via nugs.net. The Florence concert also features "Damage, Inc." as the encore opener; this was the first time in 11 years that Metallica played the song in Italy.
10 Facts About Metallica's 'Master of Puppets' Only Superfans Would Know
In so many ways, Metallica would never be the same after Master of Puppets hit the streets on March 3, 1986.
Because fans already know a lot about the record—like how the title for "Leper Messiah" was inspired by lyrics to David Bowie's "Ziggy Stardust" or that "The Thing That Should Not Be" has roots in H.P. Lovecraft's writings—we decided to dig deep into the history of Master of Puppets to pull out 10 facts that only superfans would know.
Metallica: A Photo Timeline of Their Remarkable Career