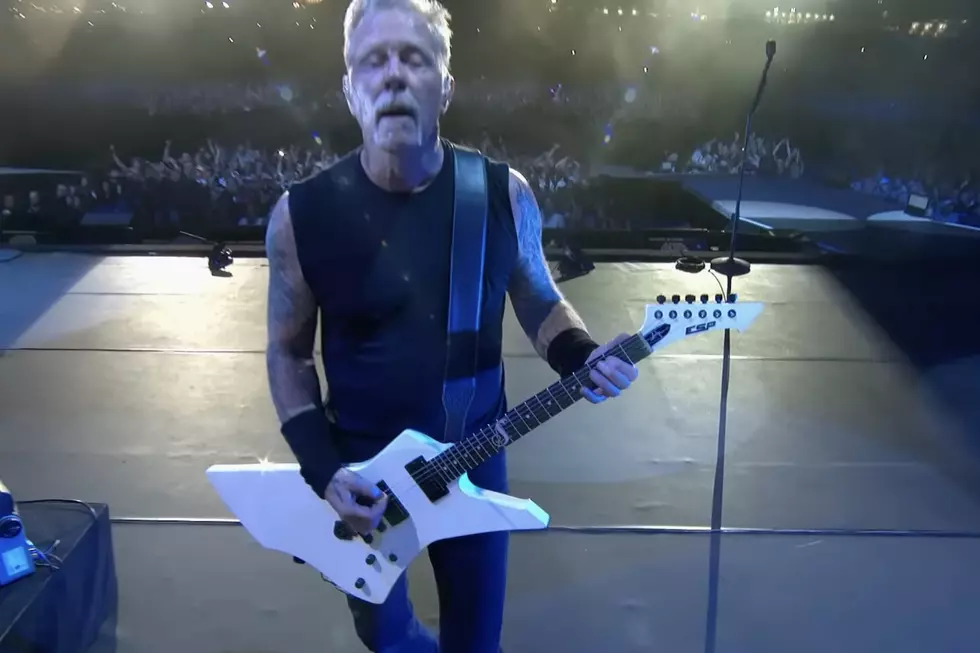 'Language of the Mad': Metallica Rock the Netherlands With 'Harvester of Sorrow'
Metallica via YouTube
Now that Metallica have a few shows in Europe under their belt, the live videos from those concerts are being released. Fans have already gotten their eyes and ears on "Enter Sandman" and "Damage, Inc." from Metallica's Copenhagen concert, and now videos from their show at the Pinkpop Festival at Megaland in Landgraaf, Netherlands, are being unveiled.
First up is the raucous performance of "Harvester of Sorrow" from June 17, 2022—you can check it out below.
Watch Metallica Perform "Harvester of Sorrow" in Landgraaf
"And now that we've played all of our good songs, I don't know what's next," James Hetfield said with a smile on his face right before the band tore into "Harvester of Sorrow."
The song has been performed nearly 800 times since it debuted onstage on May 23, 1988, at the Troubadour in West Hollywood, a few months before it was officially released as a single from ...And Justice For All. At that particular show, it opened the band's second encore of the night, and they followed it with an epic one-two punch of "Leper Messiah" and "Blitzkrieg."
"Harvester of Sorrow" was a regular part of Metallica's set in 2021 and in 2022, the Pinkpop performance marked the third time they played it this year.

Metallica's set at Pinkpop was an explosive one and for the most part, it looked similar to their Copenhagen show a couple of days earlier. One notable change in the setlist, though, came as the encore opened in Landgraaf. Instead of the expected "Damage, Inc.," Metallica pulled out Kill 'Em All's "Metal Militia," which was the first time the band played it live in six years—and the first time they played it in the Netherlands in 38 years.
Our Favorite Metallica Cover Art — Singles
This was no easy task, and there's no doubt that many will have their own personal favorite cover art that they think should be included in this collection. From looking at absolutely killer artwork created by Brian Schroeder—better known to 'Tallica fans as the artist Pushead—and awesome shots of the band to hand-drawn cover art by James Hetfield himself, these are 10 covers that we love.
Metallica Fans Share Some of Their Favorite Lyrics
We asked you
, the Metallica Family, what your favorite lyrics from the thrash legends are—and you answered. Though we aren't sharing every single response here, we've picked some of our favorites. In the gallery below, you'll see the lyrics, the song name and even the social media handle of each Metallica fan. What's your favorite lyric or line from a 'Tallica tune? Which one did we totally miss?
Send us a message in our app
and let us know.