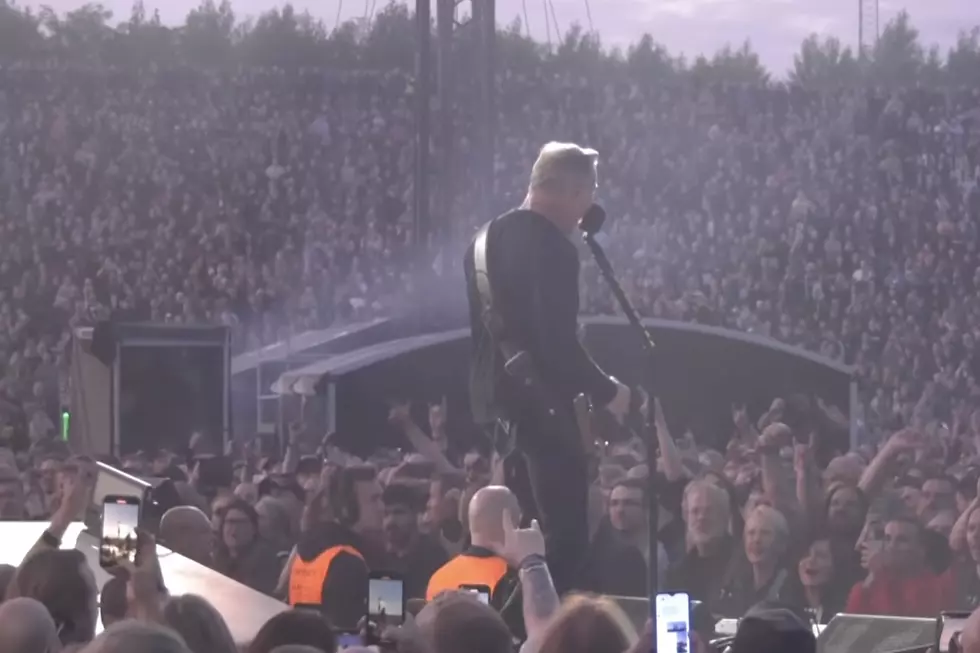 Watch Metallica's Performance of 'Enter Sandman' in Copenhagen
Metallica via YouTube
When Metallica pulled out "Enter Sandman" at their European tour opener on June 15, 2022, even they knew it was a momentous occasion.
"After closing the better part of a billion shows," they included in the show notes for the concert, ""Enter Sandman" was moved up to slot number three."
That's right. When Metallica headlined COPENHELL in Copenhagen, they surprised fans by including "Enter Sandman" in their opening one-two-three punch; "Whiplash" and "Creeping Death" were the first two songs in the set. In place of their regular show closer was the epic "Master of Puppets."
Metallica have already released the full show for streaming and downloading and now they've unveiled the first pro-shot live video from their run of shows in Europe. As you may have already guessed, they've graced fans with their powerful and—we'll say it, historic—performance of "Enter Sandman." Watch the live video below.
Watch Metallica Perform "Enter Sandman" in Copenhagen
As you can see in the video, Metallica brought back the Snake Pit for their European tour this summer. Fans should expect several more live videos to be released in the coming weeks following Metallica's run across Europe; check out Metallica's tour schedule here.

While Metallica are in Europe, they haven't only been focused on their live shows. As reported earlier, the thrash legends donated approximately $137,000 to help with relief efforts in Germany following a massive flood in 2021. Of course, this isn't the only philanthropic effort made by Metallica; fans can learn more about all of their charitable efforts via their non-profit organization, All Within My Hands.
Metallica Fans Share Some of Their Favorite Lyrics
We asked you
, the Metallica Family, what your favorite lyrics from the thrash legends are—and you answered. Though we aren't sharing every single response here, we've picked some of our favorites. In the gallery below, you'll see the lyrics, the song name and even the social media handle of each Metallica fan. What's your favorite lyric or line from a 'Tallica tune? Which one did we totally miss?
Send us a message in our app
and let us know.
Metallica and Greta Van Fleet Las Vegas 2022
Metallica and Greta Van Fleet Perform in Las Vegas, Feb. 25, 2022