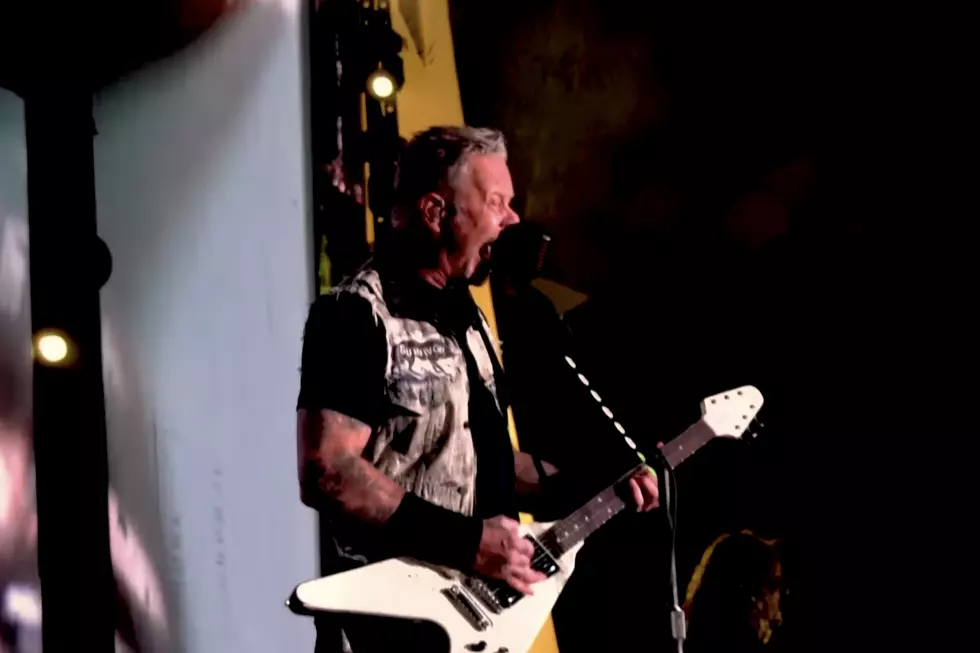 Metallica Bring the Heat With Live Performance of 'Battery' in Brazil
Metallica via YouTube
Another day, another live video from Mighty Metallica's recent run of South American shows.
Metallica have shared a new video from their recent performance in Curitiba and this time it's the pummeling Master of Puppets album opener, "Battery." This latest video was captured at Estádio Couto Pereira in Curitiba, Brazil, on May 7, 2022, the same show as the previously-released live videos for "Whiskey in the Jar" and "Sad But True."
Check out the performance of "Battery"—full of plenty of fire—below.
Watch Metallica Perform "Battery" in Curitiba
Following their May 7 gig in Curitiba, Metallica performed at Estádio do Morumbi in São Paulo and then Estádio do Mineirão in Belo Horizonte, wrapping up their shows in Brazil. During the Belo Horizonte concert, James Hetfield shared some of his recent struggles onstage, which prompted an impromptu—and absolutely beautiful—group hug with his bandmates.
All of Metallica's recent South American shows are now available to download at LiveMetallica.com and you can also grab them via nugs.net.
Metallica's next show is stateside in the Napa Valley. They are headlining the first night of the BottleRock festival on Friday, May 27. BottleRock is a three-day fest celebrating music, food, wine and beer and features a diverse lineup including P!nk, Twenty One Pilots, Luke Combs, The Black Crowes, Pitbull and friends of 'Tallica, Greta Van Fleet. If you're feeling antsy, general admission tickets are still available for Friday; you can grab details for BottleRock here.
Metallica won't be spending the whole weekend on the West Coast, though. After their show at BottleRock, they are sprinting across the country to close out another three-day festival, Boston Calling at the Harvard Athletic Complex on Sunday, May 29. Single-day wristbands for Boston Calling can be purchased here.

If you're heading to either BottleRock or Boston Calling, send us a message in the Ultimate Metallica app. Share your thoughts, let us know your favorite moment and even send us a photo or two!
Our Favorite Metallica Cover Art — Singles
This was no easy task, and there's no doubt that many will have their own personal favorite cover art that they think should be included in this collection. From looking at absolutely killer artwork created by Brian Schroeder—better known to 'Tallica fans as the artist Pushead—and awesome shots of the band to hand-drawn cover art by James Hetfield himself, these are 10 covers that we love.
Metallica: A Photo Timeline of Their Remarkable Career