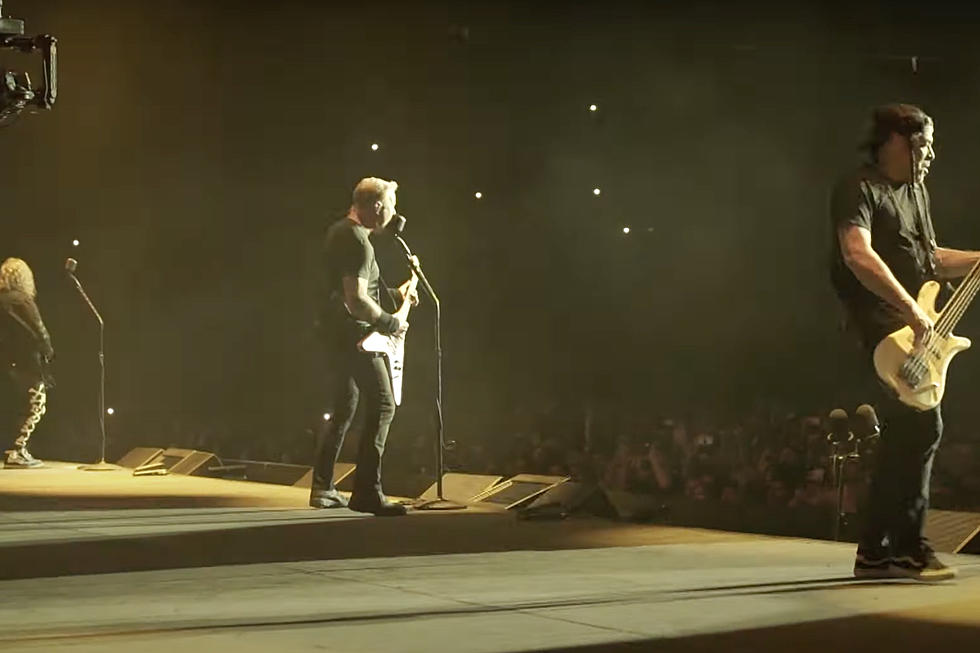 Metallica Share Live Video Of 'Battery' From Las Vegas Show
Metallica via YouTube
As their first live show of 2022 neared its end, Metallica wrapped up their regular set with the one-two-three punch of "Creeping Death," "Fade to Black" and "Master of Puppets"—but of course, they weren't done. Coming back to the stage at Allegiant Stadium in Las Vegas for a few more songs, Metallica opened their encore with a blistering performance of "Battery."
Metallica have shared the live video of that encore-opening tune and you can check it out below.
Watch Metallica Perform "Battery" at Allegiant Stadium in Las Vegas
A few minutes into the song, James Hetfield asks his signature question to the stadium crowd: "Are you alive? Las Vegas, are you alive?! Show us how it feels to be alive!"
After "Battery," Metallica finished their encore with "Nothing Else Matters"—a slight contrast to the heaviness of "Battery"—and "Enter Sandman."

The first time Metallica played "Battery" in front of a live audience was on March 27, 1986—three weeks after the release of Master of Puppets—at the Kansas Coliseum in Wichita, Kansas. Including that debut in Wichita and their show in Vegas, they've played the song 953 times.
This is the second video from the Vegas show that Metallica have shared. Just a few days ago, they unveiled their performance of the Black Album track, "Wherever I May Roam."
Watch Metallica Perform "Wherever I May Roam" at Allegiant Stadium in Las Vegas
Greta Van Fleet and Ice Nine Kills opened the show in Vegas and they'll continue to be support for Metallica at their other stadium shows later this year.
Some of Our Favorite Live Photos of Lars Ulrich
As iconic as James Hetfield is, as much of a shredder as Kirk Hammett is and as crazy as Robert Trujillo is onstage, there might be no member more associated with Metallica than Lars Ulrich.
Afterall, he's the reason the band even exists. He's a major part of the songwriting process. He's the voice that stood up for Metallica and musicians across the globe in the wake of Napster.
After hours and hours of rifling through photos of Ulrich, we whittled this list down to just a few of our favorite live shots from the last 20 years. Of course, there's no way to encapsulate Ulrich in a mere photograph, but as you will no doubt be able to tell, you can get pretty close.
All Metallica Songs Ranked