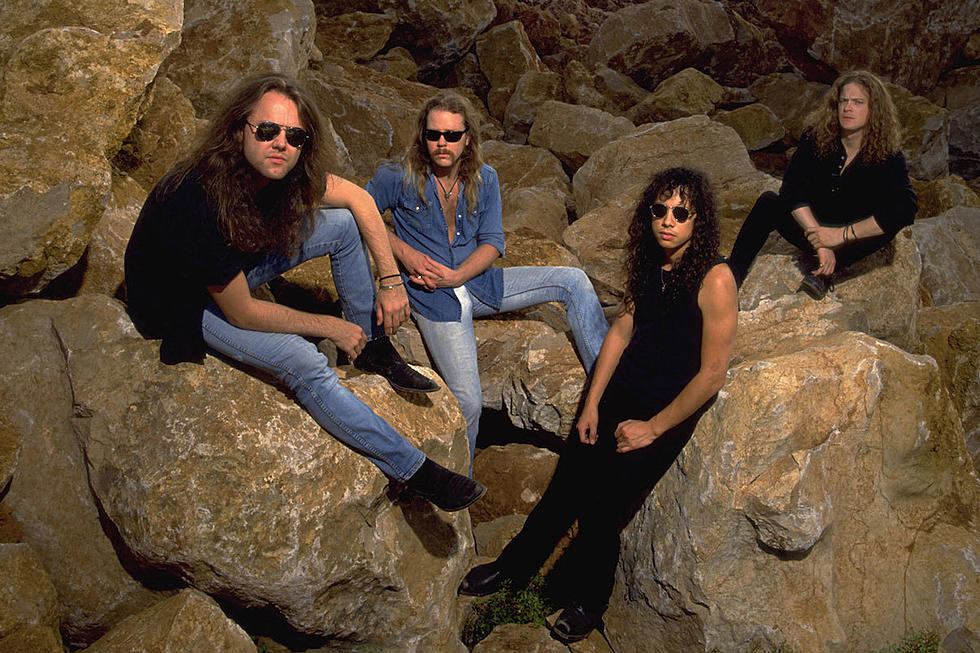 Flashback to 1992: Metallica Deliver Crushing Performance of 'Whiplash' in San Diego
Ross Halfin, Official Metallica Website, Metallica.com
We're feeling nostalgic, so we decided to jump in our 'Tallica time machine and travel back to one of the most brutal performances in the band's history.
Acting Like a Maniac
That's right, we're talking about the brutality of Live Shit: Binge and Purge, Metallica's live collection that covers their massive, multi-day sets at the Seattle Coliseum in Seattle, Washington, in 1989, the San Diego Sports Arena in San Diego, California, in 1992 and the Palacio de los Deportes in Mexico City, Mexico in 1993.
While you can pick any track from Binge and Purge and be guaranteed a good time, we decided to head to San Diego for the closing song from their regular set: Kill 'Em All's "Whiplash."
"Whiplash" is already one of Metallica's thrashiest tunes, but when they pulled it out on their Wherever We May Roam Tour in '92, they hit a level of heaviness like never before.
If you've never seen it before—or you want to watch it for the 469th time—check it out below.
Watch Metallica Perform "Whiplash" in San Diego in 1992
"You guys are fucking quiet again, man, what the fuck's going on?"
James Hetfield holds nothing back as his intensity is on full display throughout the performance, and Jason Newsted matches that intensity when he takes over vocal duties for a couple of verses. The video itself captures the insanity of the song, too, with rapid-fire cuts of the audience and band spliced together for a head-spinning, head-banging experience.

The live debut of "Whiplash" came on Oct. 23, 1982, at Billy Barty's Roller Fantasy in Fullerton, California. As Ron McGovney recalls in the below tweet, people were actually roller skating while Metallica performed at Billy Barty's. Seriously.
Since that 1982 gig at the roller rink, Metallica have performed "Whiplash" more than 900 times.
Some of Our Favorite Live Photos of James Hetfield
Covering nearly 20 years of performances, the below photos display why James Hetfield is one of the best frontmen in rock and roll.
Each shot shows his raw energy, intensity and overall fun spirit at Metallica's live shows. If a photo is worth a thousand words, we know these shots are worth thousands of Hetfield's growls.
Our Favorite Metallica Cover Art — Singles
This was no easy task, and there's no doubt that many will have their own personal favorite cover art that they think should be included in this collection. From looking at absolutely killer artwork created by Brian Schroeder—better known to 'Tallica fans as the artist Pushead—and awesome shots of the band to hand-drawn cover art by James Hetfield himself, these are 10 covers that we love.