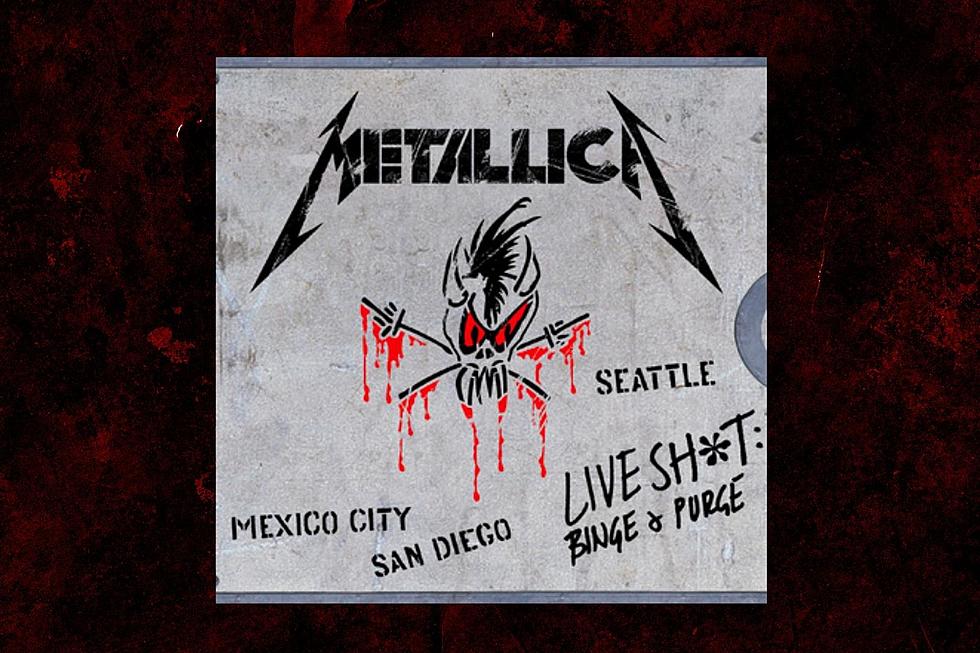 Metallica, 'Live Sh*t: Binge & Purge' – Album Overview
Elektra
In 1993, Metallica released the box set 'Live Sh*t: Binge & Purge,' which consisted of three CDs and three VHS tapes (kids, ask your parents what those are). Later editions would include two DVDs instead of the VHS tapes. The collection included over nine hours of material.
In addition to the music, the set came in a special mini road case box along with extras like a t-shirt, a "Snake Pit" backstage pass, a stencil of James Hetfield's 'Scary Guy' and a 72-page booklet. 'Live Sh*t: Binge & Purge' did draw some criticism for its high price.
The material on the band's first official live release was taken from several different shows. The Mexico City concert, which is divided into three CDs, was recorded in 1993 on the 'Nowhere Else to Roam Tour.' The first DVD/first two VHS tapes are from a 1992 San Diego show on the 'Wherever I May Roam Tour,' while the second DVD/third VHS tape is from a 1989 Seattle show on the 'Damaged Justice Tour.'
'Live Sh*t: Binge & Purge' was released Nov. 23, 1993. It was no mistake the release came right before the holiday shopping season. Those who couldn't afford (or didn't want to spring for) the expensive box set could ask for it as a gift. The DVD version of the box set was released Nov. 12, 2002.
The set has sold over 600,000 copies, which for an album isn't that impressive, but for a box set is incredible. Because it is considered a long form music video instead of an album, the certification numbers are different, and it has been certified 15 times platinum.
Metallica - 'Live Sh*t: Binge & Purge'
CD 1
(Recorded at the Palacio de los Deportes, Mexico City, Mexico on February 25, 26, 27, and March 1 and 2, 1993.)
'Enter Sandman'
'Creeping Death'
'Harvester Of Sorrow'
'Welcome Home (Sanitarium)'
'Sad But True'
'Of Wolf And Man'
'Unforgiven'
Justice Medley ('Eye Of The Beholder'/'Blackened'/'The Frayed Ends Of Sanity')
CD 2
'Through The Never'
'For Whom The Bell Tolls'
'Fade To Black'
'Master Of Puppets'
'Seek And Destroy'
'Whiplash'
CD 3
'Nothing Else Matters'
'Wherever I May Roam'
'Am I Evil?'
'Last Caress'
'One'
'Battery'
'Four Horsemen'
'Motorbreath'
'Stone Cold Crazy'
VHS 1/DVD 1
(Recorded at the San Diego Sports Arena, San Diego, California on January 13 and 14, 1992.)
MetalliMovie
'The Ecstasy of Gold'
'Enter Sandman'
'Creeping Death'
'Harvester of Sorrow'
'Welcome Home (Sanitarium)'
'Sad But True'
'Wherever I May Roam'
Bass solo
'Through the Never'
'The Unforgiven'
Justice Medley ('Eye of the Beholder'/'Blackened'/'The Frayed Ends of Sanity'/'...And Justice for All')
Drum solo and drum battle (with James Hetfield on drums)
Guitar solo
VHS 2/DVD 1
'The Four Horsemen'
'For Whom the Bell Tolls'
'Fade to Black'
'Whiplash'
'Master of Puppets'
'Seek & Destroy'
'One'
'Last Caress'
'Am I Evil?'
'Battery'
'Stone Cold Crazy'
VHS 3/DVD 2
(Recorded at the Seattle Coliseum, Seattle, Washington on August 29 and 30, 1989.)
'The Ecstasy of Gold'
'Blackened'
'For Whom the Bell Tolls'
'Welcome Home (Sanitarium)'
'Harvester of Sorrow'
'The Four Horsemen'
'The Thing That Should Not Be'
Bass solo
'Master of Puppets'
'Fade to Black'
'Seek & Destroy'
'...And Justice for All'
'One'
'Creeping Death'
Guitar solo
'Battery'
'Last Caress'
'Am I Evil?'
'Whiplash'
'Breadfan'