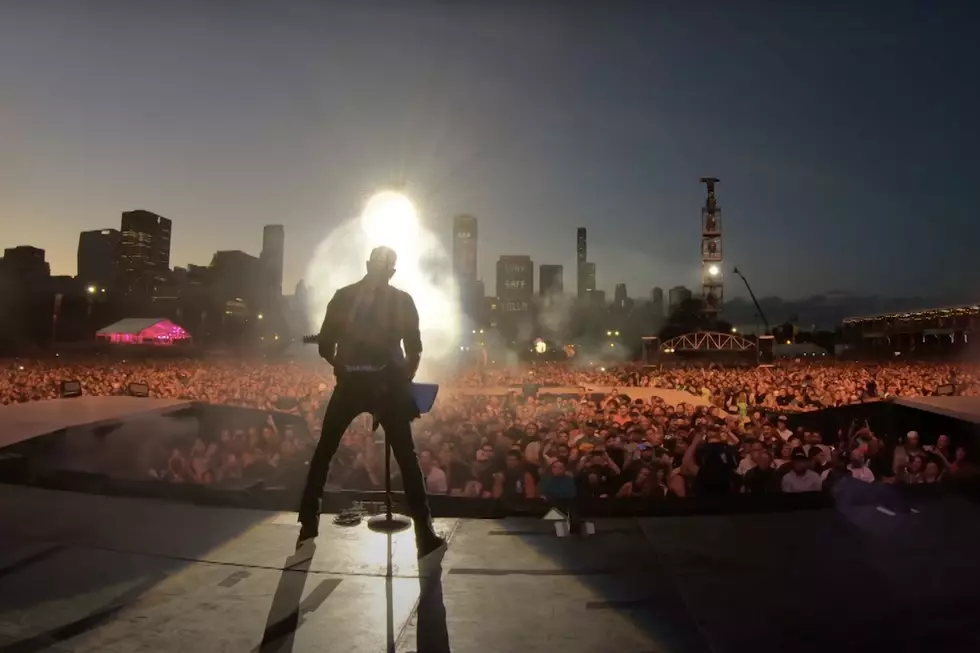 'Gone Insane': Metallica Release Performance of 'The Memory Remains' at Lollapalooza
Metallica via YouTube
"[There are] a little more opinionated responses on these last couple of records," James Hetfield told MTV's Chris Connelly in a 1997 interview about Load, the "Black Album" and Reload. "It's either 'I hate it' or 'I love it,' which is how I think it should kind of be. We're not meant to be background music while you're driving."
Regardless of those responses in the late-'90s, there's no question that today Reload stands as a strong member of Metallica's discography. The album itself debuted at No. 1 on Billboard's 200 chart and it's sold more than 3 million copies in America. "Fuel" has become an undeniable staple in the band's catalog and "The Memory Remains" has grown into a fan-favorite at live shows, largely thanks to the crowd's involvement in the song.
In place of Marianne Faithfull's iconic vocals in the studio track, crowds across the world fill the space with their voices when given the chance—and it always sounds amazing.
Case in point: the crowd at Lollapalooza in Chicago on July 28 came together for an unforgettable performance of "The Memory Remains." Check out pro-shot footage from the song below.
Watch Metallica Perform "The Memory Remains" Live at Lollapalooza
"The Memory Remains" is far from one of Metallica's most-played songs. The performance at Lollapalooza marked just the 305th time they've played it onstage in nearly 25 years, with its live debut happening on Nov. 11, 1997, in Philadelphia.

Metallica are prepping for their two final shows of the year, first with a gig at Highmark Stadium in Buffalo, N.Y., on Aug. 11 and then they wrap things up at PNC Park in Pittsburgh on Aug. 14.
Check Out Metallica's Setlist at Lollapalooza
Our Favorite Metallica Cover Art — Singles
This was no easy task, and there's no doubt that many will have their own personal favorite cover art that they think should be included in this collection. From looking at absolutely killer artwork created by Brian Schroeder—better known to 'Tallica fans as the artist Pushead—and awesome shots of the band to hand-drawn cover art by James Hetfield himself, these are 10 covers that we love.
Some of Our Favorite Live Photos of Lars Ulrich
As iconic as James Hetfield is, as much of a shredder as Kirk Hammett is and as crazy as Robert Trujillo is onstage, there might be no member more associated with Metallica than Lars Ulrich.
Afterall, he's the reason the band even exists. He's a major part of the songwriting process. He's the voice that stood up for Metallica and musicians across the globe in the wake of Napster.
After hours and hours of rifling through photos of Ulrich, we whittled this list down to just a few of our favorite live shots from the last 20 years. Of course, there's no way to encapsulate Ulrich in a mere photograph, but as you will no doubt be able to tell, you can get pretty close.