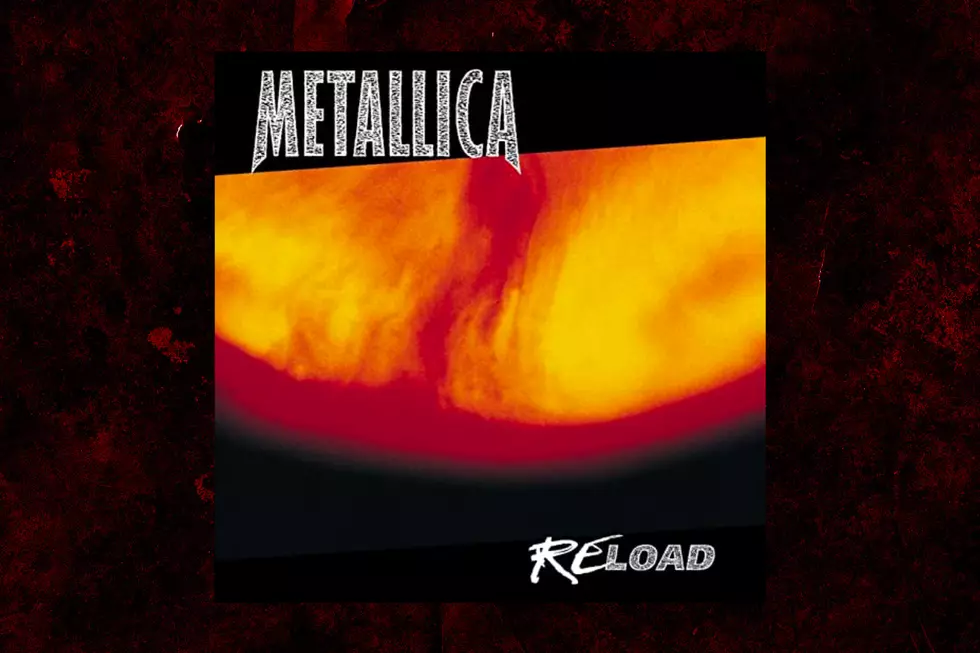 Metallica, 'Reload' – Album Overview
Blackened Recordings
After waiting more than five years between Metallica and Load, fans of Metallica only had to wait 18 months for Reload. The band wrote more than two dozen songs for Load and thought about doing a double album, but instead, they put out Load and then came back and finished the rest of the songs from that session, which became Reload.

Some were under the impression that the album was made up of leftovers or even remixes because of the title, but Metallica assure fans they didn't use all the best material on Load. They consider Load and Reload to be interchangeable parts of a 27-song album that just weren't released at the same time.
Drummer Lars Ulrich expressed that sentiment in the band's fan club magazine So What! before Reload was released: "I was very adamant that we would have two records which would balance out with each other, not be an A record and a B record. They would be two records you would be able to put up against each other as strong, equal records from one songwriting and recording session."
Elektra's marketing department worked overtime in promoting Reload. Metallica played a free concert in Philadelphia called "The Million Decibel March" that drew a lot of attention.
Watch Metallica Perform "Master of Puppets" Live at "The Million Decibel March"
Released Nov. 18, 1997, just in time for the holiday buying season, Reload continued Metallica's streak of No. 1 albums. It ended up selling around 4 million copies in the U.S., about a million fewer than Load. They would also win another Grammy in 1998 for Best Metal Performance. It would be the last studio album bassist Jason Newsted would appear on.
Reload Track by Track
"Fuel"
There are no sweeping intros on Reload. Hetfield barks the opening line to "Fuel" a capella, then the song (and album) is unleashed. Even though it wasn't the most successful single on the album (peaking at No. 6), "Fuel" is the most-known track. Because of its title, it has been used as theme music for a lot of different auto races.
"The Memory Remains"
Just like the opener, "The Memory Remains" begins a capella, something Metallica hasn't done a lot. Most of their songs have ample and sometimes lengthy intros. This song is unique because for the first time a female vocalist is featured. After discussing candidates including Carly Simon and Patti Smith, they decided on Marianne Faithful. It was the second most successful single on Reload, making it to No. 3 on the Mainstream Rock chart.
"Devil's Dance"
This was one of two songs (the other was "2 X 4" from Load) that Metallica previewed at a festival before the albums were released. That is the claim to fame for both of the songs, since neither were ever released as singles. The lyrics of "Devil's Dance" talk about how the devil uses temptation.
"The Unforgiven II"
Movies and even albums have sequels, and Metallica decided to write a sequel to "The Unforgiven" from the "Black Album." "The Unforgiven II" has a similar musical structure to the original, although it's a little twangier. The videos followed similar themes as well. It would be the most successful single from Reload, making it to No.1 on the Mainstream Rock chart.
"Better Than You"
For a song that won a Grammy for Best Metal Performance and was a Top 10 single on the Mainstream Rock chart, "Better Than You" is still pretty obscure, definitely the least known of any Metallica single. Part of the reason is that it hasn't ever been played live, which is unusual considering it was released as a single.
"Slither"
Originally called "Fishtank," "Slither" is another of the songs on Reload that have never been performed live. The lyrics are pretty ambiguous and could refer to the music industry, drugs, or being careful what you wish for, because you might get it.
"Carpe Diem Baby"
Known as "Skimpy" when it was a demo, "Carpe Diem Baby" is about seizing the day and making the most of every opportunity ("carpe diem" means "seize the day" in Latin). It was finally played live for the first time during one of Metallica's 2011 30th anniversary concerts in San Francisco.
"Bad Seed"
One of the first songs written for Load and Reload, "Bad Seed" referred to the story of Adam and Eve and the danger of forbidden fruit. Musically it was influenced by a Kyuss song called "Big Bikes."
"Where The Wild Things Are"
The title for "Where The Wild Things Are" comes from the children's book of the same name. It was the only song on Reload co-written by bassist Jason Newsted, who would leave the band in 2001.
"Prince Charming"
A groovy stomper, "Prince Charming" is one of the angrier tracks on Reload. It's about somebody that was rejected by their mother. It might have some autobiographical elements, since Hetfield had a difficult childhood with his Christian Scientist mother dying of cancer without seeking medical treatment when he was a teenager.
"Low Man's Lyric"
Reload is a very front-loaded album, with all the singles and better-known songs at the beginning, following a similar template to Load. The most unique song on the second half of Reload is "Low Man's Lyric," which incorporates instruments such as the violin and hurdy-gurdy (which was also used on "The Memory Remains").
"Attitude"
Known as "Lenny" and "Sweat" in demo form, "Attitude" glorifies breaking the rules and being a rebel. It has a looser and more live vibe than the rest of the album. The live vibe part is ironic, since Metallica has never played "Attitude" in concert.
"Fixxxer"
After covering the mother angle on "Prince Charming," Hetfield turns his lyrical ire to the paternal side of the coin on "Fixxxer," which is about a person represented by a voodoo doll suffering pain from his father. Hetfield's father abandoned the family when James was young. "Fixxxer" is the longest song on 'ReLoad,' clocking in at 8 minutes 15 seconds. It has been performed live only once.
Watch Metallica Perform "Fixxxer" Live in San Francisco
Some of Our Favorite Live Photos of Lars Ulrich
As iconic as James Hetfield is, as much of a shredder as Kirk Hammett is and as crazy as Robert Trujillo is onstage, there might be no member more associated with Metallica than Lars Ulrich.
Afterall, he's the reason the band even exists. He's a major part of the songwriting process. He's the voice that stood up for Metallica and musicians across the globe in the wake of Napster.
After hours and hours of rifling through photos of Ulrich, we whittled this list down to just a few of our favorite live shots from the last 20 years. Of course, there's no way to encapsulate Ulrich in a mere photograph, but as you will no doubt be able to tell, you can get pretty close.
Here Are Some of Our Favorite Metallica T-Shirts
Metallica have not only created some of the best heavy metal in the last 40 years, they've also created some of the most iconic T-shirts. In the last four decades, they've worked with incredible artists like Pushead, Brian Ewing and others to bring their songs and albums to life. In the gallery below, we've picked out some of our favorite T-shirts that are currently available at Metallica's official online store. Which one is your favorite?