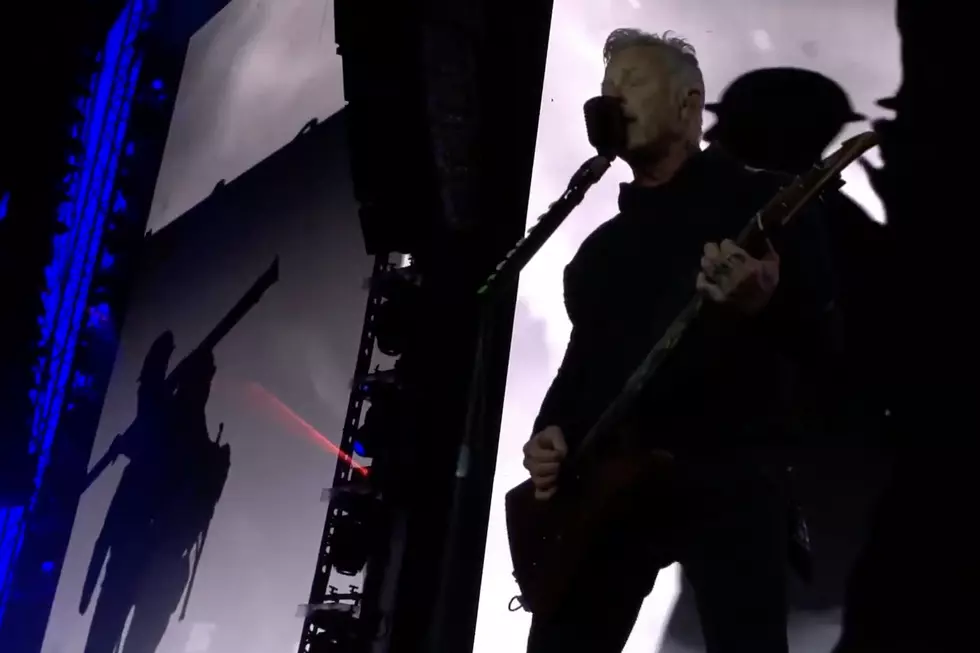 Check Out Metallica's Epic Performance of 'One' in Chile
Metallica via YouTube
It's a classic and an all-time fan favorite, and on April 27, 2022, Metallica pulled the ...And Justice For All track out onstage at Club Hípico Santiago in Chile.
Now, the band's performance of "One" is preserved forever as Metallica have released pro-shot footage from Santiago, which you can check out below.
Watch Metallica Perform "One" in Santiago
If you stream or download the full show from LiveMetallica.com or nugs.net, you'll hear a chipper James Hetfield talk to the crowd after "One," asking them, "Do you like that song?" The thousands of screaming fans answer in the affirmative, to which Hetfield responds, "Now we're going to play a song you don't like, okay? Is there a song you don't like? Everyone has one." After that, Kirk Hammett plays the opening riff to "Escape," the Ride the Lightning track that is notorious for being hated by the band.
Hetfield laughs at the riff and the band tears into another fan favorite, "Sad But True."

Even before Metallica took the stage for the show, fans in Santiago were already revved up thanks to hearing the band's rehearsal of "One" shake the city. You can see fan-footage of that soundcheck here. This is already the third video released from Metallica's Santiago gig, the first being the crushing "Spit Out the Bone," then the "Black Album" tune, "Through the Never."
"One" is one of the most-performed Metallica songs in their catalog. They first pulled it out on Sept. 11, 1988, in Budapest, Hungary, and since then have played it more than 1,500 times. It's a regular staple in their setlists and it's already appeared in all of their 2022 shows.
Listen to Metallica Perform "One" in California in 1988
Some of Our Favorite Live Photos of Kirk Hammett
Kirk Hammett is a shredder, plain and simple. Or more specifically, he's a ripper. The Ripper.
Whether you're listening to him ripping or watching videos or staring at photos, one thing is obvious: this guy is a six-string master. While we could never create a collection that covers Hammett's entire history with Metallica, we've picked a handful of some of our favorite photos over the last 20 years showing the guitarist rocking out and having fun.
Some of Our Favorite Live Photos of James Hetfield
Covering nearly 20 years of performances, the below photos display why James Hetfield is one of the best frontmen in rock and roll.
Each shot shows his raw energy, intensity and overall fun spirit at Metallica's live shows. If a photo is worth a thousand words, we know these shots are worth thousands of Hetfield's growls.