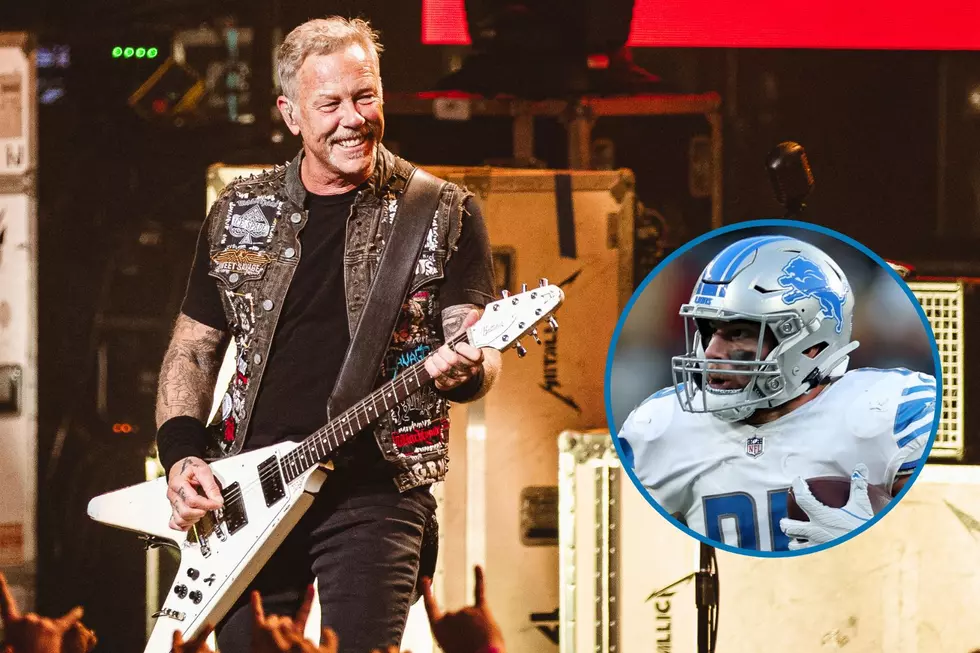 James Hetfield Gives Shoutout to Detroit Lions Coach Dan Campbell on Twitter
Lantz Martin for Seminole Hard Rock Hotel & Casino Hollywood / Sarah Stier, Getty Images
As Metallica gear up for 2023—which will include the release of their new album, 72 Seasons, and the kick-off of their massive, worldwide M72 tour—they're giving some fans in Detroit an early Christmas present.
In a tweet shared by the Detroit Lions on Thursday, Dec. 22, James Hetfield gives a big shoutout to the team's head coach, Dan Campbell, in anticipation of the band's stop at Ford Field on Nov. 10 and Nov. 12, 2023.
"Hey y'all, this is James from Metallica. This shoutout goes to Coach Campbell and all his awesome references to Metallica lyrics, especially the 'light at the end of your tunnel'...Metallica's grateful to be played in his house, the Ford Field, and we're gonna put in a good word for you with Roger Goodell and see if you can get a bye week so you can come and see our show."
The "No Leaf Clover" reference Hetfield makes is a nod to a specific episode of HBO's Hard Knocks that "gave a very unique behind-the-scenes look at the Detroit Lions," as Max Gerber noted in USA Today. In the third episode of this particular season that is focused on the Lions, Coach Campbell's Metallica fandom became clear as he used "No Leaf Clover" in training camp, according to Side Lion Report's Brad Berreman.
Apparently, the inclusion of Metallica in Hard Knocks got the coach some ribbing from his close friends, as you can see in the video below.
Coach Campbell's fandom was on full display when Metallica announced 72 Seasons and the M72 tour. In his own tweet shared by Ford Field, he said, "We cannot wait to see you guys blowing out Ford Field next year. See you soon."
Metallica are no strangers to performing in Detroit. Their last Motor City gig was on July 12, 2017, at Comerica Park as part of the WorldWired tour, and in 2013, they held their second Orion Music + More festival at Belle Isle. On the first day of the festival, they surprised concertgoers by performing Kill 'Em All in its entirety on a side stage, unannounced.

The band's first-ever show in Detroit took place at the Royal Oak Music Theatre on Feb. 1, 1985, as they toured the country in support of Ride the Lightning, playing with W.A.S.P. and Armored Saint.
Watch Metallica Perform "Blackened" Live in Detroit
11 Amazing Metallica Concert Posters From 2022
Even before
Metallica
announced plans for their 12th studio album,
72 Seasons
, 2022 was shaping up to be one of the most memorable years in the band's career.
As Metallica have done for decades, each live experience in '22 wasn't just about the music, but also about the unforgettable show posters tied to each concert. While we prepare ourselves for Metallica's huge
M72 tour
in 2023 and 2024, let's take a moment to look back at some of our favorite Metallica concert posters from 2022.
Some of Our Favorite Live Photos of James Hetfield
Covering nearly 20 years of performances, the below photos display why James Hetfield is one of the best frontmen in rock and roll.
Each shot shows his raw energy, intensity and overall fun spirit at Metallica's live shows. If a photo is worth a thousand words, we know these shots are worth thousands of Hetfield's growls.