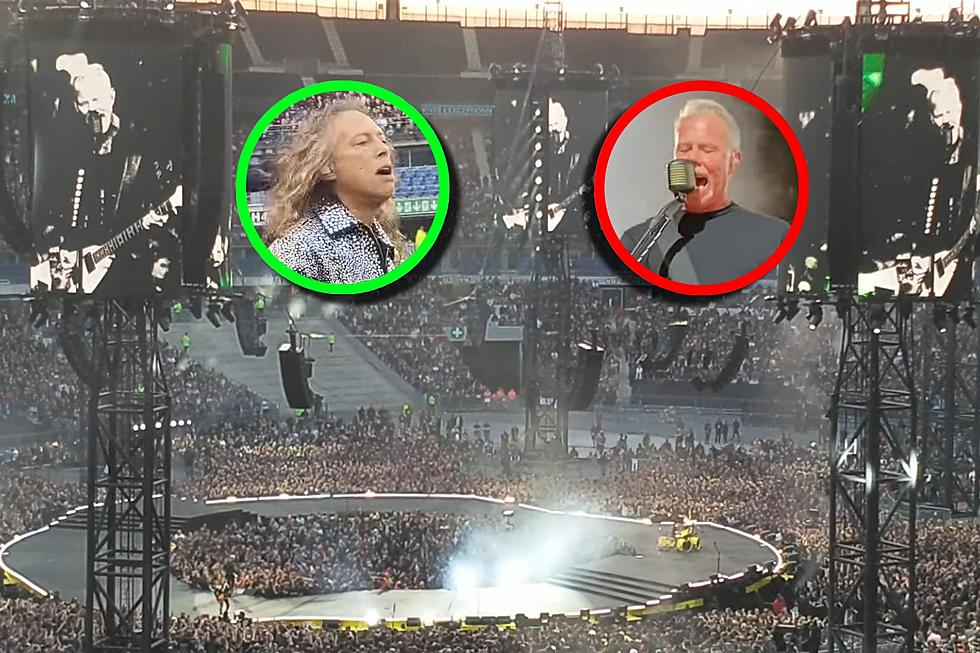 Metallica's Second Paris Show Includes Another Explosive Tour Debut – See Video
YouTube: Xavier's Live Metal Music Channel / YouTube: TheRealDouk / YouTube: Hristo Hristov
Every stop on Metallica's "M72" world tour thus far has included at least one new tour song, with their first of two nights in the Stade de France last Wednesday (May 17) seeing them premiere "I Disappear" and "Blackened." Unsurprisingly, their follow-up performance – which occurred this past Friday (May 19) – kept the trend going by showcasing "Cyanide" from 2008's Death Magnetic.
According to Setlist.fm, this sixth song from the quartet's ninth studio LP hadn't been played live since July 2022, so its inclusion here is surprising.
Admittedly, when Loudwire ranked every Metallica song back in 2020, we put "Cyanide" at No. 91, concluding that it's "one of the album's least memorable songs" because "it feels more like a collection of riffs designed to echo the imperious past than anything more anthemic or incisive."
Still, it must've been cool to see in Paris, right?
Read More: Comedian Lewis Black Immediately Regrets Using Metallica Entrance Music
As promoted, Metallica's May 19 setlist differed entirely from the one they had two nights prior, with more songs from 72 Seasons appearing ("72 Seasons," "If Darkness Had a Son" and "You Must Burn!"). Beyond that, classics such as "Harvester of Sorrow," "Welcome Home (Sanitarium)," 'The Call of Ktulu," "Battery," "One," "Enter Sandman" and "The Unforgiven" were given the stage treatment once again.
In fact, the setlist mirrored that of Metallica's second performance in Amsterdam on April 29, 2023 quite closely in terms of picks and sequencing. One notable change was "Battery" taking the place of "Fight Fire with Fire" near the end, as well as "King Nothing" and "Cyanide" filling in for "Leper Messiah" and "Until It Sleeps."
You can see the full setlist – as well as live video of "Cyanide" – below.
In other news, Ghost frontman Tobias Forge appeared on the May 19 episode of Loudwire Nights and, among other things, spoke with host Chuck Armstrong about why they were hesitant to cover Metallica's "Enter Sandman."
Also, you can read about what Metallica were "unprepared" for when recording Lulu.
Lastly, be sure grab your tickets for the remaining dates on Metallica's "M72" world tour!
Metallica May 19, 2023 Paris, France - Stade de France Setlist (per Setlist.fm)
1. Creeping Death
2. Harvester of Sorrow
3. Cyanide (tour debut)
4. King Nothing
5. 72 Seasons
6. If Darkness Had a Son
7. Welcome Home (Sanitarium)
8. You Must Burn!
9. The Call of Ktulu
10. The Unforgiven
11. Wherever I May Roam
12. Moth Into Flame
13. Battery
14. Whiskey in the Jar (traditional cover)
15. One
16. Enter Sandman
Metallica's Tour Debut of "Cyanide" in Paris (May 19, 2023)
All Metallica Songs Ranked