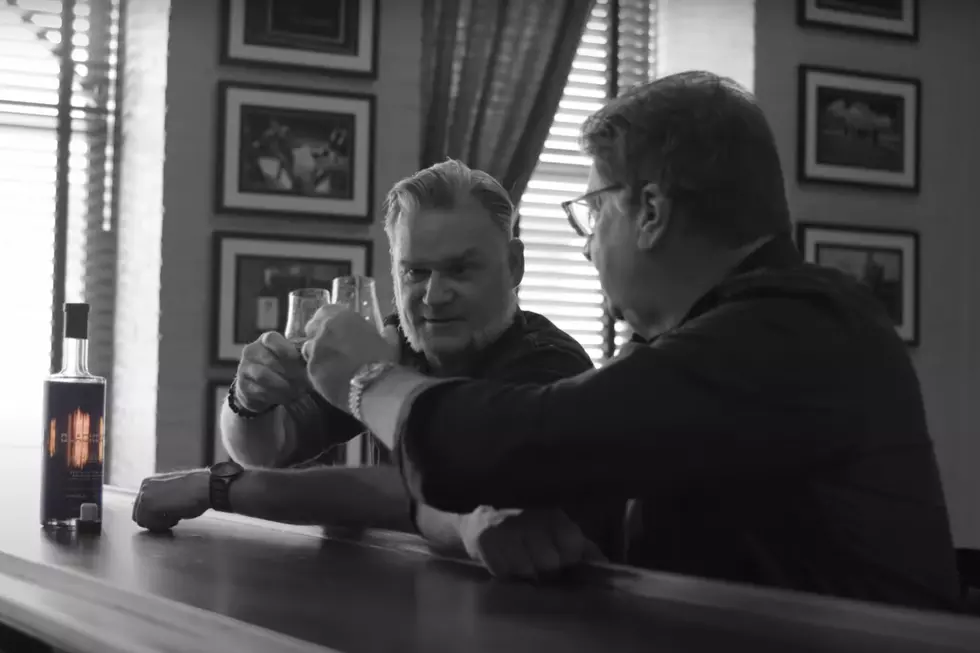 Metallica and Blackened Announce Newest Release in Masters of Whiskey Series
Blackened American Whiskey via YouTube
Earlier this year, Metallica and Blackened American Whiskey announced their first-ever Kentucky straight rye whiskey, the appropriately titled "Rye the Lightning." Less than six months later, they're ready for another new release.
"Our secret is officially out," Rob Dietrich, Master Distiller & Blender of Blackened, recently wrote on Instagram. "I am so proud to announce this beautiful collaboration between myself at Blackened Whiskey and the legendary co-founder of Angel's Envy, Wes Henderson!!"
Henderson co-founded Angel's Envy with his father, Lincoln, who passed away in 2013 at the age of 75. Both Lincoln and Wes are members of the Kentucky Bourbon Hall of Fame, and Wes was close friends with Blackened's original Master Distiller & Blender, Dave Pickerell.
This is the second release in Blackened's Masters of Whiskey series, the first being a collaboration with Willet Distillery's Master Distiller, Drew Kulsveen. As Dietrich describes, the new blend is a six-year-old Kentucky straight bourbon whiskey that is finished in white port wine casks and bottled at cask strength.
Kirk Hammett is, not surprisingly, excited about the news.
"We don't do anything halfway," Hammett said. "That's the really cool thing about the Masters of Whiskey series—we build on our core idea of collaboration, getting to work with these insane Master Distillers and Blenders to innovate and bring new expressions to our fans and whiskey drinkers."
The timing of Dietrich's Instagram post is no accident as it coincides with this weekend's Bourbon & Beyond music and bourbon festival in Louisville, Kentucky. Though Metallica aren't performing, Dietrich and Blackened will be there celebrating their whiskey and this new collaboration with Henderson.

"I wanted to put a unique spin on America's most well-known whiskey, Kentucky straight bourbon," Dietrich says in a newly-released video about the new release, which you can watch in full below.
Blackened American Whiskey Announces Collaboration With Wes Henderson
No word yet on which Metallica songs were used in the Black Noise sonic enhancement process for this latest release, but the bottles should be hitting store shelves this fall so we'll know soon enough.
In the meantime, you can listen to the playlist used for the Black Noise sonic enhancement process for the collaboration with Willet below; it includes "For Whom the Bell Tolls," "Master of Puppets," "King Nothing" and "Dyers Eve," among others.
Metallica Playlist For Blackened X Willett Collaboration
Here Are Some of Our Favorite Metallica T-Shirts
Metallica have not only created some of the best heavy metal in the last 40 years, they've also created some of the most iconic T-shirts. In the last four decades, they've worked with incredible artists like Pushead, Brian Ewing and others to bring their songs and albums to life. In the gallery below, we've picked out some of our favorite T-shirts that are currently available at Metallica's official online store. Which one is your favorite?
Look: Metallica Just Made the Most Metal Looking Vinyl Turntable
Here's a look at Metallica's new $1599.00 turntable that's coming soon.