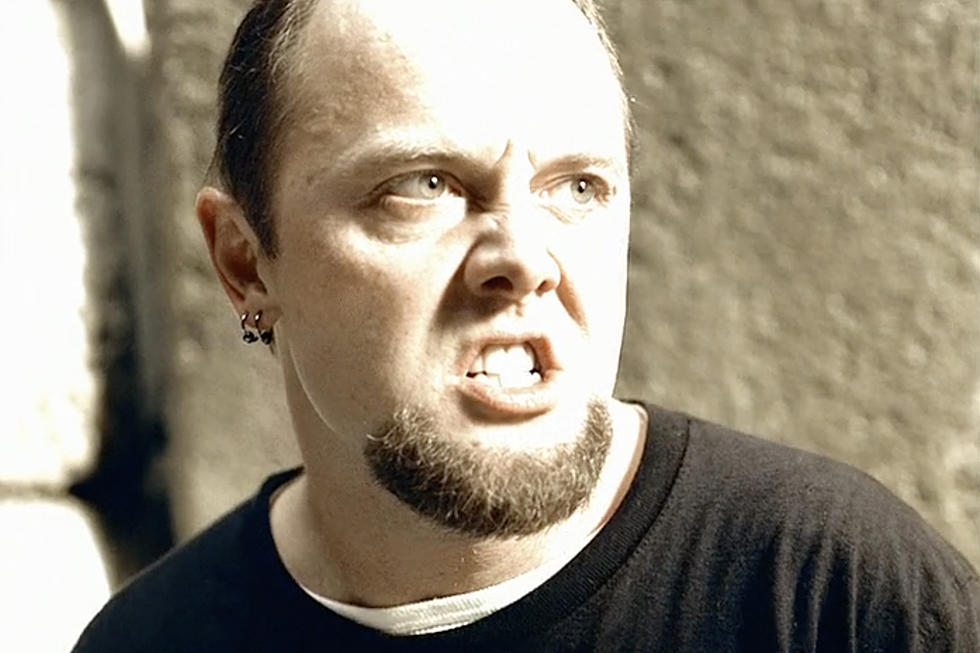 'The First 40 Years': New Metallica Black Box Exhibition Is Open For Fans
"Frantic" Music Video, MetallicaBlackBox.com
Metallica have been teasing fans about a new exhibition opening up online on MetallicaBlackBox.com, and the virtual doors are finally open.
Metallica: The First 40 Years is a massive treasure trove of bits and pieces from the band's history, covering ground from the naming of their band to Robert Trujillo joining the gang—and plenty more.
As the virtual exhibition explains, "Explore the first in a series of four retrospectives, as told through the band's personal archives. Look for more moments from the band's 40 years coming soon."
It's hard to pull out our favorite memorabilia from this collection, but here are some of our favorites.
European Tour, 1990
Longtime 'Tallica photographer Ross Halfin captured some one-of-a-kind shots of Kirk Hammett and James Hetfield between May 11-26, 1990, while the band played nine shows across Europe. There's nothing better than seeing Hetfield having fun backstage.
Click here for European Tour, 1990
St. Anger
Say what you will about St. Anger, but the album rocks; even more significant than the heaviness of the record is the fact that St. Anger will forever capture an important time in the history of Metallica. Obviously, it has a place in this exhibition.
Metallica have shared unused video treatment for the music video of "Frantic" and a handwritten note from, we think, Pushead about the colors of the album artwork.
Naming the Band
We'll let the exhibition speak for itself: "In the Spring of 1981, James Hetfield and Lars Ulrich were looking for a name for their newly formed band. Lars explains, 'I met a bunch of really cool San Francisco kids, one of them was named Ron [Quintana]. He told me he wanted to start his own fanzine...He asked me whether he should call the fanzine 'Metallica' or 'Metal Mania,' so I suggested that he call it 'Metal Mania.'"
The Metallica Black Box includes a photo of Lars Ulrich's notebook that contains a number of potential band names, including Blitzer and Phantomlörd.
Talk about a piece of metal history.
Click here to see Naming the Band
Metallimansion
This is amazing.
For a few years in the mid-'80s, Hetfield and Ulrich lived together in El Cerrito, California. This is where most of Ride the Lightning and Master of Puppets were written. Metallica have shared an amazing photo of the band—including Cliff Burton—as well as a couple of hilarious shots of Ulrich and Hetfield.
Click here to see Metallimansion
Bay Area Music Awards, 1997
How about this? Metallica received four nominations for the Bay Area Music Awards in 1997 and they've shared the accompanying official certificates. Metallica ended up winning for "Outstanding Group."
Click here to see Bay Area Music Awards, 1997
Beyond the exhibition, Metallica have updated the online Black Box store with some incredible new offerings, including a print of the storyboard for the "I Disappear" music video, an Andy Warhol-inspired print of the band in honor of their 30th anniversary and an authentic plaque commemorating the multi-Platinum status of Master of Puppets.
Check those out below and see everything you can purchase here.
"I Disappear" Video Treatment
30 Year Anniversary Art Print
Master of Puppets Platinum Award

10 Things We Learned About Metallica from 'Some Kind of Monster'
Metallica: Some Kind of Monster
made its debut Jan. 24, 2004, at the Sundance Film Festival. Today, it holds an impressive 89 percent rating with critics 83 percent rating with fans on
Rotten Tomatoes
. The documentary puts Metallica in a never-before-seen light as the band members opened themselves up in incredibly vulnerable ways. With each viewing, there are still new things fans—hardcore and new fans alike—can learn about one of the biggest bands in the history of rock 'n' roll.
Some of Our Favorite Live Photos of Robert Trujillo
If you've ever seen Metallica live in the last 20 years, you know how much of a monster Robert Trujillo is onstage. From his signature helicopter spin to his barking vocals, Trujillo is a musician few can imitate. We could share thousands of photos of Trujillo doing what he does best, but we decided to trim it down to just a few of our favorites.
Sometimes in rock bands, you'll find the bassist is more subdued or prefers to stay away from the spotlight. With Trujillo, he commands the attention of the crowd—and often, the attention of his bandmates—and Metallica's live shows are better because of it.
Check out some of our favorite live shots of Trujillo below, going all the way back to when he first joined the band in 2003.