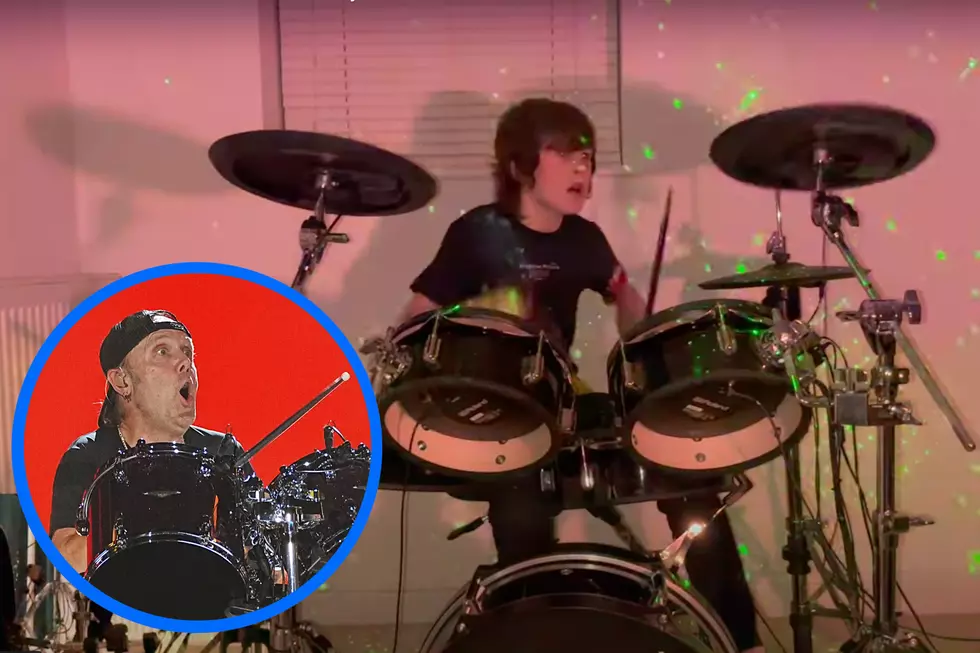 Watch 10-Year-Old Crush Metallica's 'Lux Aeterna' on Drums
YouTube: Sam Beat7 - Sam Bickmore / Jeff Kravitz, Getty Images
Metallica are back with new music, and that's got music fans buzzing. YouTube has already given us players altering the lyrics or delivering their own guitar solo for the new song "Lux Æterna," and now we've got an aspiring 10-year-old drummer taking a turn behind the kit replicating Lars Ulrich's hits and beats from "Lux Æterna" as seen in the video toward the bottom of this post.
This drummer is 10-year-old Sam Bickmore, who has just been behind the kit for four years rocking out some of his favorite drum covers through his YouTube channel. "I have been playing drums since I was 6 and decided to record and upload videos to track my progress and hopefully inspire others to enjoy music," explains Sam on his channel. "There are so many drummers out there who inspire me and I like a mix of pop, rock and punk music – anything with a good, fast beat! All of my drum covers are recorded at home and the sound is unedited. They may not be perfect and are usually my own interpretation of the drums. Neither of my parents are musicians! Early videos are played on an Alesis electric kit but I now have a Roland VAD306 which I love."
Bickmore has honed his chops, drumming away on covers of songs from Tool, Avenged Sevenfold, Guns N' Roses, Rise Against, Led Zeppelin, Blink-182, Paramore, Kings of Leon and plenty more, with the up-and-coming drummer rocking Metallica's latest single as his final performance of 2022.
Metallica dropped "Lux Æterna" in late November, coinciding with the announcement of a new album and two years worth of tour dates. As one of the most critiqued bands in rock and metal, it's no surprise that fans took issue with the drum sound, and eventually more focus was put on the drums when Lars Ulrich's isolated drum tracks were released. But there were also plenty of things to love about the new song as well.
The group eventually gave the song its live debut last month at their All Within My Hands foundation "Helping Hands" benefit concert in Los Angeles. Metallica's new album 72 Seasons will be released on April 14.
Check out Sam Bickmore's drum cover of "Lux Æterna" below.
Metallica, "Lux Æterna" Drum Cover By 10-Year-Old Sam Bickmore
Most Anticipated Rock + Metal Albums of 2023
2023 is looking good for rock and metal albums already.