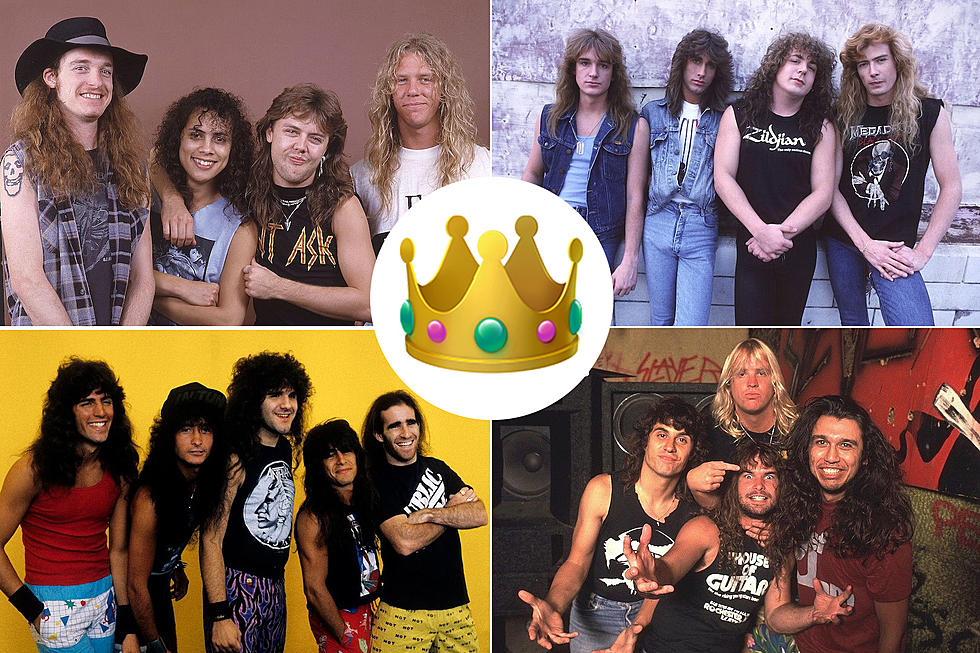 Poll: Which 'Big 4′ Thrash Band Is the Best? – Vote Now
Paul Natkin, Getty Images / Chris Walter, Getty Images / Mike Cameron/Redferns, Getty Images
Some say Metallica are the best metal band in the world, others say Megadeth are better and the rest will say Slayer and Anthrax trump both. You often hear about the "Big 4" of thrash, so it's time you finally get to answer the question — which of them is the best?
Metallica, Slayer and Anthrax all formed in 1981, and Megadeth formed in 1983 after Dave Mustaine was fired from Metallica. Though there were plenty of other bands that formed around this time that were given the thrash label, including Overkill, Exodus and Kreator, among others, the "Big 4" were the ones that became the most popular, and are regarded as the most influential.
Thrash metal is essentially loud, aggressive music that's played at extremely fast tempos. It was heavily influenced by two different sectors of '70s music — the New Wave of British Heavy Metal bands, such as Iron Maiden, Judas Priest, Raven and Motorhead, and the punk bands, including Ramones, Dead Boys and Misfits (see our full list of thrash metal pioneers here). The "Big 4" and other thrash artists combined elements from these influences and spearheaded one of the most notable subgenres in metal music.
READ MORE: The 'Big 4' Bands of 27 Rock + Metal Subgenres
All four groups have had extremely successful careers, and the only one that's no longer touring or creating new music today is Slayer. Megadeth just released a new record this past fall, Metallica's 11th album comes out this Friday (April 14) and Anthrax are working on the follow-up to 2016's For All Kings. Plus, after the success of the "Big 4" shows that took place in 2011, Mustaine is pushing for Slayer to come out of retirement to eventually do another run.
So, which of the "Big 4" bands is the best? There's no right or wrong answer here — you're allowed to favor whichever you want. We just wanted to give thrash fans the chance to crown one of the four groups the kings of the genre. Vote for your choice below.
Every Thrash Metal 'Big 4' Album Ranked
An incredibly diverse collection of albums, ranked from worst to best!
Follow Loudwire's 'Early Thrash: The Beginning & The '90s' playlist
here
.