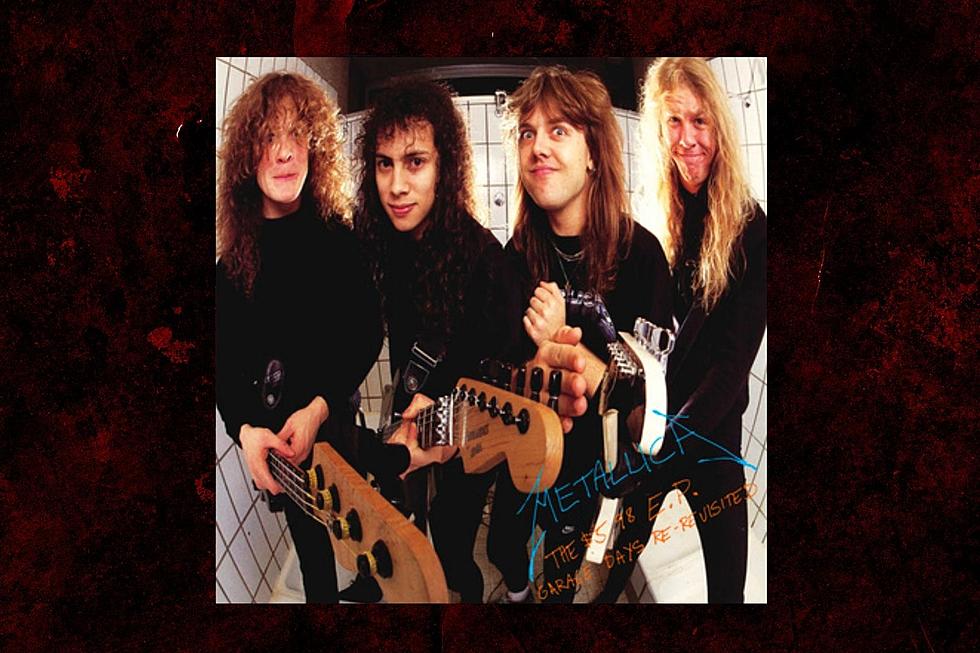 Metallica, 'The $5.98 E.P.: Garage Days Re-Revisited' – Album Overview
Elektra
Some bands dislike recording cover songs, but Metallica have always embraced them. They aren't afraid to pay homage to bands they like or that influenced them, and have played cover songs in concert from their earliest days. They would also release two covers collections, including 1987's 'The $5.98 E.P.: Garage Days Re-Revisited'
In 1987, Jason Newsted replaced the late Cliff Burton in the band's lineup. Metallica weren't prepared yet to record a new studio album without Burton, so a covers album was a good solution. It got Newsted involved in the recording process for the first time, with the songs for 'The $5.98 E.P.: Garage Days Re-Revisited' originally laid down in drummer Lars Ulrich's garage, then re-recorded in a proper studio.
Metallica chose five songs for the EP, a mix of New Wave of British Heavy Metal, punk and hardcore tracks. The reason the price is in the title is because the band didn't want record stores gouging the public with a price higher than $5.98. The CD version was titled 'The $9.98 CD...' The original vinyl EP is long out of print and is a collector's item. All five songs were also included on 'Garage, Inc.'
'The $5.98 E.P.: Garage Days Re-Revisited' was released Aug. 21, 1987 and would peak at No. 28 on the Billboard Album chart. It has sold just over a million copies.
'The $5.98 E.P.: Garage Days Re-Revisited' Track by Track:
'Helpless'
Diamond Head were a huge influence on Metallica. They played the former band's song 'Am I Evil' in concert a lot, and it would appear as a bonus track on the reissue of 'Kill 'Em All.' 'Helpless' was on Diamond Head's 1980 album 'Lightning to the Nations.'
'The Small Hours'
Holocaust were a Scottish metal band that were very obscure, but thanks to Metallica covering 'The Small Hours,' got some attention (and money). The song itself was also obscure, first appearing on a 1983 live album by Holocaust.
'The Wait'
Killing Joke was by no means a mainstream band, but were certainly more known than Holocaust. The punk band formed back in the late '70s, and are still releasing new material today. James Hetfield was a fan of the group, especially singer Jaz Coleman. 'The Wait' is from Killing Joke's 1980 self-titled album.
'Crash Course in Brain Surgery'
Budgie were another New Wave of British Heavy Metal band that had an influence on Metallica. Their best known song is probably 'Breadfan,' thanks to Metallica covering it on 1998's 'Garage, Inc.' and playing the track live quite a bit. 'Crash Course In Brain Surgery' was from Budgie's 1974 album 'In for the Kill.'
'Last Caress'/'Green Hell'
Glenn Danzig's seminal horror punk band Misfits influenced several genres, including punk and metal. Metallica combined two of their songs on the E.P., 'Last Caress' from Misfits' 1980 E.P. 'Beware' and 'Green Hell' from the 1983 album 'Earth, A.D.' There's also a rough snippet of the intro to the Iron Maiden classic 'Run to the Hills' at the end of the song.