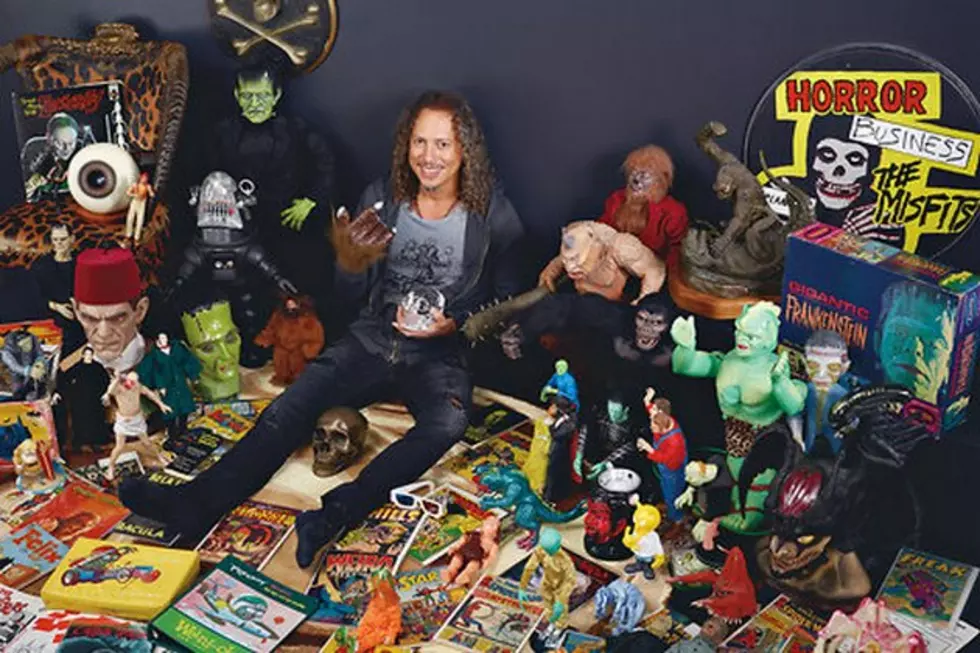 Metallica's Kirk Hammett to Do Signings at 2015 San Diego Comic-Con
Nuclear Blast / KVH Toys
Metallica and/or their horror-loving guitarist Kirk Hammett have had a presence at the last few Comic-Cons in San Diego, Calif. In 2013, the band played a "secret show," and last year Hammett was there to promote his Famous Zombies Jr. limited edition toy.
This year, Hammett is heading back to Comic-Con promoting his limited edition figures. Check out photos of the 9" vinyl figures Tomb Mummy Green, Tomb Mummy Metallic Green, Bad Brains Green and Bad Brains Metallic Green below.
Those who buy the figures at Comic-Con are guaranteed a ticket to visit the Nuclear Blast/Stern Pinball/KVH Toys/SR Merchandising booth on Saturday, July 11 at 1:30PM or 3:30PM where Hammett will sign the figures.
In 2011 Hammett formed KVH Toys to create custom horror collectibles, and a year later he published the book Too Much Horror Business that chronicles his massive collection. 2014 saw the guitarist branching out by launching the inaugural Kirk Von Hammett's Fear FestEvil in San Francisco.
The 2015 edition of Fear FestEvil took place in April in San Jose, Calif. and included musical performances from Meshuggah, High on Fire, Agnostic Front, Orchid, Ghoul and Asada Messiah along with autograph sessions, a Carnival of Chaos and Hammett's collection of horror memorabilia. There was also a panel discussion featuring Hammett, Corey Taylor, John 5 and Charlie Benante.
Metallica have some shows planned for the summer as they continue to work on a new album. Their North American dates include Lollapalooza in Chicago on Aug. 1 and two historic shows in Quebec City, Canada on Sept. 14 and 16. For all their concert dates, go here.
See the Kirk Von Hammett Figures Available at Comic-Con
You Think You Know Metallica?
See Where Kirk Hammett Ranks Among Rock + Metal's Top 50 Guitarists