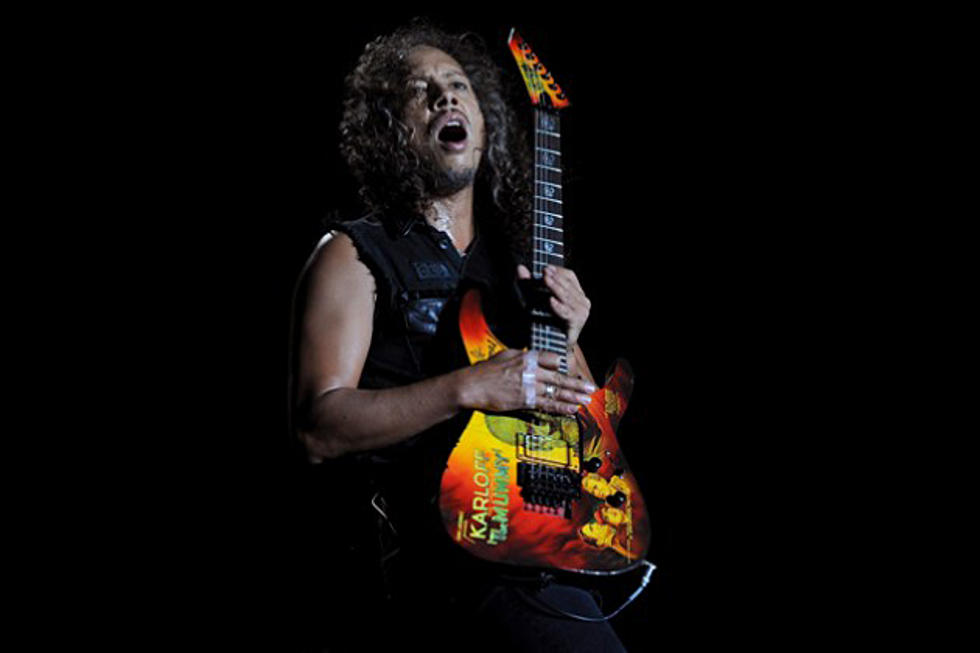 Metallica's Kirk Hammett Teams with Hasbro for 'Transformers' Guitar
Kevin Winter, Getty Images
Metallica's Kirk Hammett is heading to San Diego for Comic-Con this weekend, and while we already know about his limited edition action figure, there's also going to be the unveiling of a 'Transformers' brand guitar
The ESP LTD M-10 Electric Guitar (seen below) is fully decked out with unique 'Till All Are One" graphics to honor the 'Transformers' 30th anniversary. Hasbro teamed with Nuclear Blast, ESP Guitars and Hammett to create the special instrument.
"I'm beyond excited and honored to be able to work alongside my great friends at Hasbro and one of their legendary core brands: 'The Transformers'! The prospect of bringing this iconic brand together with metal music has been in the works for quite some time … and now the wait is over! This is simply an amazing dream come true," stated Nuclear Blast Label Manager Gerardo Martinez.
Two of the epically limited 'Transformers' guitars are being raffled off at Comic-Con. Fans in attendance are encouraged to visit the Nuclear Blast booth (#503) to enter for a chance to win. The winners will be chosen at random on Saturday, July 26, at the Hasbro booth (#3213) at 1:30PM. Kirk Hammett will also be in attendance Saturday to autograph the guitars and take photos with the winners.
In addition, Nuclear Blast is giving away a limited edition CD sampler featuring 17 tracks from their artists. The sampler, which features the 'Till All Are One' artwork, can be picked up at the Hasbro booth (Saturday, 1:30-2:30PM & 4:30-5:30PM) while supplies last.
The 'Transformers' ESP LTD M-10 Electric Guitar