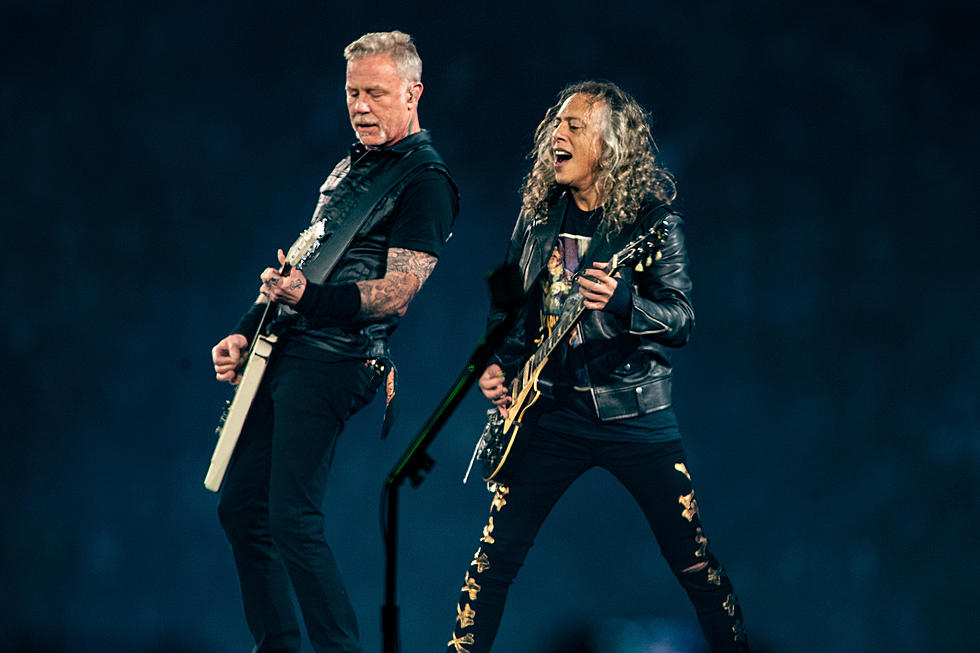 Kirk Hammett Says He + James Hetfield 'Connect in a Place That Is Not Comfortable'
Paul Bergen, Getty Images
When you're in a band for over 40 years, it's important that you feel a connection to the other musicians you're playing with. Kirk Hammett says that he and Metallica bandmate James Hetfield undoubtedly have a connection, but it's in a dark place that isn't comfortable.
Hammett discussed his relationship with his bandmates, his writing approach for 72 Seasons and the fact that he's been sober for nearly nine years during an interview with So What!, which took place prior to the band's two shows in Amsterdam last week. He was asked, in particular, about the way he relates to Hetfield's lyrics, and he explained that he often feels a connection to them because he's experienced a lot of the same things.
"When it comes to James and I, mentally, we're both challenged and sometimes we're challenged in a similar way," Hammett said. "So, we have this weird emotional connection. We connect in a place that is not comfortable. It's not warm and fuzzy. It's actually a scary place and a place that's super challenging and dark."
Some of the darkness Hammett was referring to is likely related to issues with substances. While he's been sober for nine years, and says that everything in his life has improved as a result of his sobriety, Hetfield's struggles have been a bit more recent. In the fall of 2019, the frontman admitted himself to a rehab center, and by the time he was out and the band was ready to hit the road again, the COVID-19 pandemic hit.
"In all honesty, it felt like where we were at Some Kind of Monster. Because whenever someone experiences something that's life-changing, life-moving, you have to just accept the fact that you don't know what's going to happen once the person returns," Hammett recalled. "You don't know how the process might change them. So, when James went off to rehab, and then COVID hit, I mean, that was a double whammy! And it looked like the future was very, very bleak."
The 2004 Metallica film Some Kind of Monster documented the band from 2001 until 2003, around the time when they were making St. Anger. Jason Newsted left the band just prior to starting on the album, thus Bob Rock played bass on it, and Hetfield entered rehab. These occurrences caused some tension within the band, so it was an unpredictable time for them, to say the least.
READ MORE: See Photos From the First Two Nights of Metallica's '72 Seasons' Tour
Fortunately in 2020, Hammett and his bandmates, specifically Robert Trujillo, vowed to stay positive during the lockdown, and wrote a lot of the music that ended up on 72 Seasons. 
Metallica's next scheduled No Repeat Weekend shows will take place in Paris, France on May 17 and 19. See all of the upcoming dates and get your tickets here.
Metallica: A Photo Timeline of Their Remarkable Career
A photo timeline of Metallica's career.