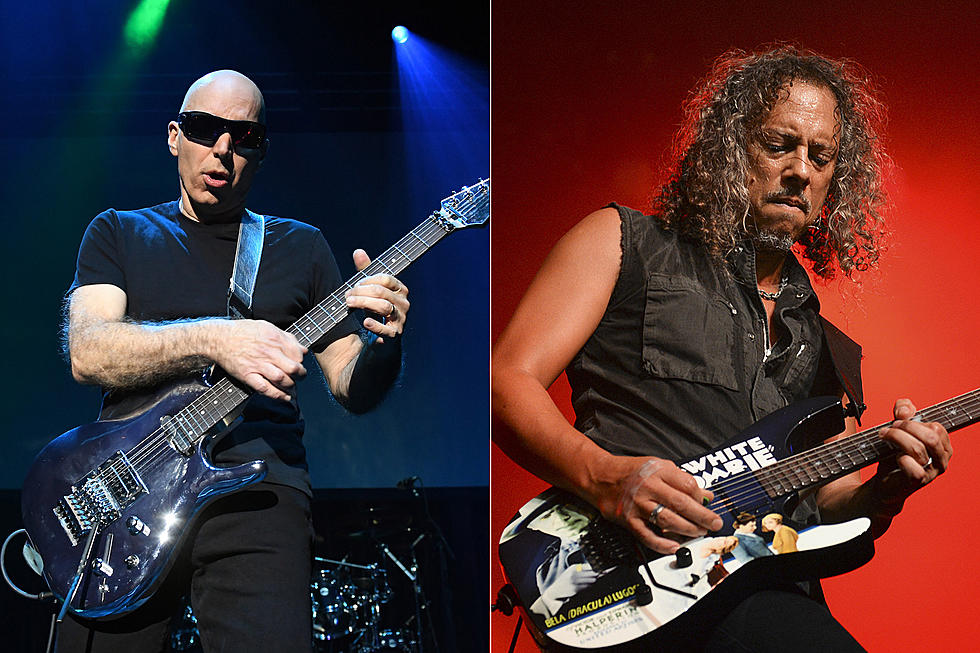 Joe Satriani Explains What Kirk Hammett Was Like as a Guitar Student Until 1988
Ethan Miller, Getty Images / Michael Kovac, Getty Images
One of the more interesting footnotes of metal history is that Metallica's Kirk Hammett received guitar lessons from shred virtuoso Joe Satriani in the '80s. In a new interview, "Satch" recalled what type of student Hammett was and that the last lesson he gave the thrash icon came in early 1988.
Satriani, who dropped his latest album, The Elephants of Mars, last week (April 8), told Kylie Olsson of the Life in Six Strings YouTube channel (transcription via Blabbermouth), "What a great outcome. [Kirk] was such a motivated young student. I mean, he could play pretty well before I first met him. He was already playing lead guitar in the band Exodus when he started taking lessons. And then during that time, he got the gig with Metallica, and he started taking two lessons a week."
Continuing to heap praise unto Hammett, who is nearly six-and-a-half younger than Satriani, the shredder went on, "He was so motivated; he was such a good student. He knew exactly what he wanted and he was really hungry. So, it was great. And he was actually my very last student; the very last lesson I gave in early January of '88 was to Kirk, and then the next day I was off becoming a solo artist for the first time in my life. So it's been very exciting for the both of us."
That means Hammett's last lesson from Satriani came just a couple weeks before Metallica entered the One on One recording studio on Los Angeles to begin work on what would become their fourth album, ...And Justice for All, which was a progressive and technical record that succeeded the band's major label debut, Master of Puppets.
At that stage in his career, many would have argued that Hammett was quite proficient on his instrument, but it proves that no matter what level of success you achieve, the drive to continue learning is paramount.
Although the one-on-one sessions between Satriani and Hammett stopped more than three decades ago, the kinship between the guitarists remains as Satriani added, "We actually did a show together in front of a hundred and twenty thousand people in Quebec City a number of years ago — Metallica was kind enough to let us open up right before them — and that was great. There's something special when you get to hang out with somebody where you both know where you came from and you're amazed at where you wound up. [Laughs] And it's a good thing."
While Satriani just dropped a new record, Hammett is staring down a rather special release of his own — the Portals EP, his first-ever solo release. The four-track instrumental offering is set for an April 23 release and more details are available here. Meanwhile, Satriani has a massive 44-date North American tour booked for later this year and you can see all those upcoming dates at this location.
Joe Satriani on Life in Six Strings
Top 66 Hard Rock + Metal Guitarists of All Time
Counting down rock and metal's greatest guitar players.