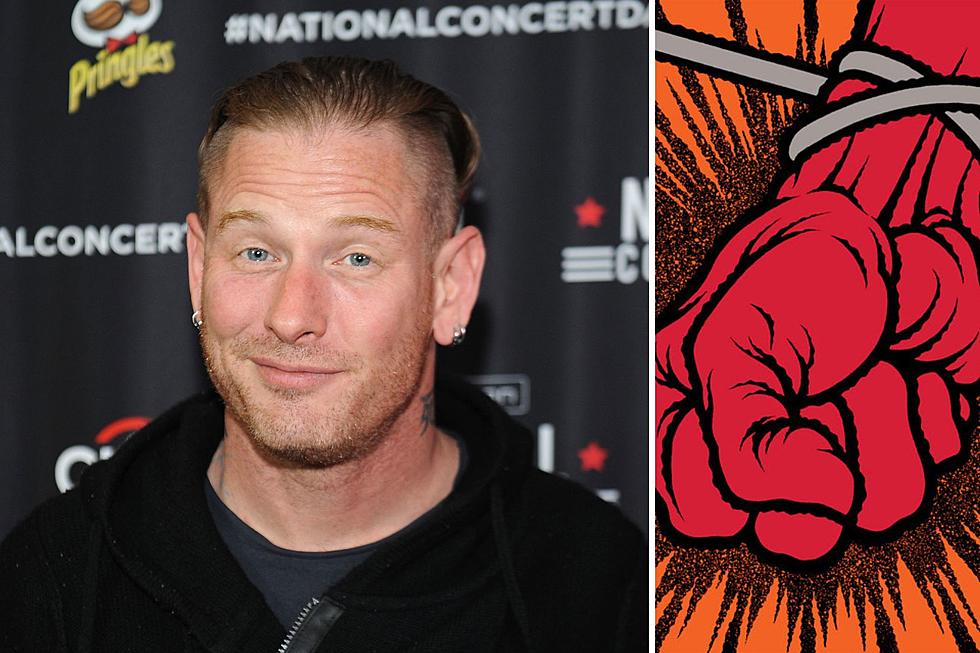 How Corey Taylor Came to Enjoy + Appreciate Metallica's 'St. Anger'
Brad Barket, Getty Images / Blackened Recordings
Corey Taylor thinks Metallica's St. Anger has "some good grooves on it" that are "underappreciated,' including the album's title track.
But how did the Slipknot singer come to appreciate and defend the oft-reviled 2003 album, the frequently heated making of which was documented in Metallica's Some Kind of Monster?
He had a little help from a Stone Sour bandmate.
That's what Taylor explained in part of an interview that emerged on Wednesday (Aug. 23).
READ MORE: Metallica's 'St. Anger' Makes Ranking of Horrible Albums by Brilliant Artists
Indeed, 20 years after the release of St. Anger, Corey Taylor has admitted the lengths he went to fully appreciate the Metallica LP after Stone Sour guitarist Josh Rand gave him an opportunity to dive deeper into the songs on it. And St. Anger came out during a trying time for the Slipknot singer.
Corey Taylor Defends St. Anger
"When it came out, I was a raging alcoholic prick," Taylor tells Revolver. "When I listened to it, the mix kind of threw me off, and I wasn't paying attention to the songs. I was kind of following the herd on that."
He adds, "Josh Rand, who was a massive Metallica fan, he got the deluxe version that had the companion DVD where they played the whole album in their rehearsal space. And watching that, I could hone in on the songs. I wasn't stuck on how it sounded. I could listen to what was going on, and it immediately gave me a better appreciation."
What Corey Taylor Thinks
Taylor continues, "Now when I listen to it, I think a lot of the stuff's really good, and there are some good grooves on it that I think are really underappreciated.
The rocker concludes, "I mean, that title track is a motherfucker, you know?"
Taylor's second solo album, CMF2, arrives Sept. 15. In June, Slipknot released the six-track Adderall EP. Find Corey Taylor's upcoming tour dates here.
Want more rock and metal news delivered to you? Get Loudwire's newsletter and Loudwire's app.
Metallica, "St. Anger" (Music Video)
Metallica Albums Ranked
See how Metallica's albums stack up from worst to best.