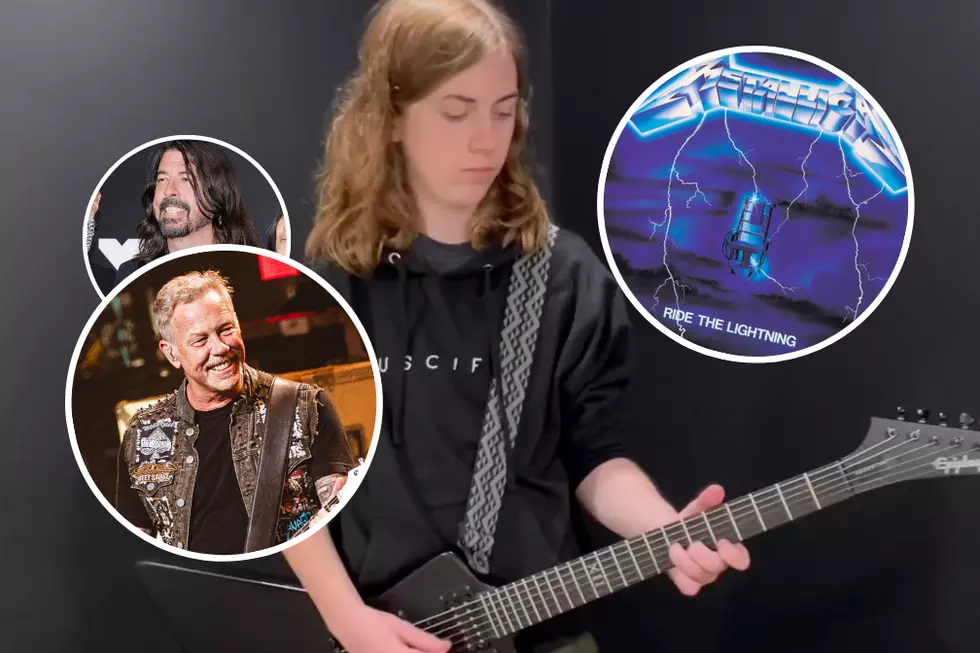 Collier Cash Once Covered Metallica on Dave Grohl's Guitar For an Audition
Collier Cash Guitar via Instagram / Jason Kempin, Getty Images / Lantz Martin / Blackened Recordings
There is no question that Collier Cash, guitar prodigy from Kansas City, has some deep appreciation for Metallica and the Foo Fighters. He recently shared his story of what it was like joining Foo Fighters on stage in 2018 to cover Metallica's "Enter Sandman," and now he's shared another story tying the two bands together on his ongoing musical journey.
For those unfamiliar with the original story from 2018, Josh Magness wrote in The Kansas City Star a few days after that show, "Collier, who was at the concert with his mother and friend, said that he wanted to play Metallica songs because he assumed the audience had heard enough Foo Fighter music at the band's show."
Collier said his mom let him and his friend go right up to the stage to get a closer look — and then [Dave] Grohl noticed him playing an air guitar, Fox4 reported. It happened during the show's encore, according to KMBC. "He's like, 'What?' I said 'I can play the guitar!' and Dave's like, 'Oh, you can play the guitar! Sure. Get this kid up here,'" Collier recalled in an interview with Fox4. "And then the crew comes and picks me up and I go up the stairs and I'm on the stage."
Four years later, Cash re-told the story to his fans on social media, saying that Grohl changed his life that night. And a few days ago, Cash continued looking back on his brief but already-impressive career by telling another story that involves both Grohl and Metallica.
In a video shared on Instagram celebrating Metallica's recent old-school show, Cash is seen and heard playing "The Call of Ktulu" from Ride the Lightning.

"One time I played this for an audition," Cash said via text overlaid on the video. "I was 11 years old. It was an audition for placement at a camp. Did I mention it was a jazz band camp? And the audition was at a conservatory? Not exactly what they were looking for. They said play whatever you want. So, I did."
Watch Collier Cash Cover Metallica's "The Call of Ktulu"
As you might guess, fans were quick to offer encouragement and appreciation for Cash's story. One person commented, ""[The] Call of Ktulu" has always been a favorite of mine," and another wrote, "And you did play whatever you wanted! Sign of a pure and free soul!"
A few hours after posting the video, Cash also shared the below photo as an Instagram story. Not only did he cover "The Call of Ktulu," be he did it with the guitar that Grohl gave to him after that unforgettable show in Kansas City.
Make sure to follow Cash on Instagram; who knows what other stories he has to share?
Watch Metallica Perform "The Call of Ktulu" Llive in Germany
See Magnificent Photos From Metallica's 2022 Jonny and Marsha Zazula Tribute Show
Metallica: A Photo Timeline of Their Remarkable Career