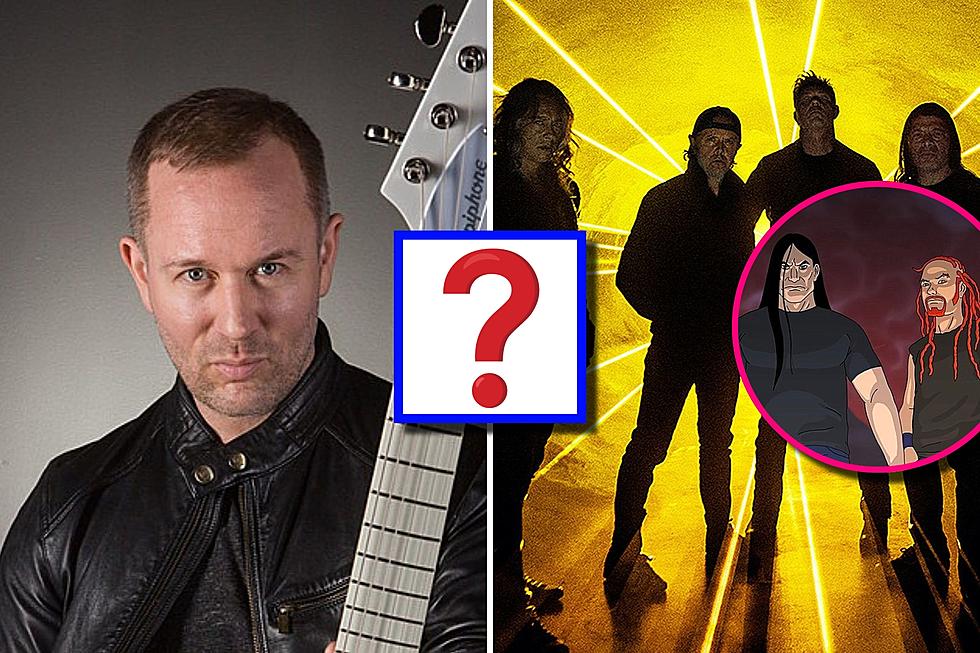 Brendon Small Reveals Which Metallica Release Directly Inspired 'Metalocalypse'
Jim Donnelly / Tim Saccenti / Adult Swim / Elena Brovko, iStock/Getty Images Plus
If you're reading this, you probably love Metallica and/or Metalocalypse and realize that the iconic thrash quartet influenced the iconic cartoon series (and its central band, Dethklok) to some degree. However, in a recent interview with co-creator Brendon Small, he revealed that Metallica: Some Kind of Monster – the 2004 documentary about the making of 2003's mostly maligned St. Anger – overtly paved the way for his animated show.
On the latest episode of Knotfest's Nu Pod podcast (uploaded on Aug. 12), Small spoke about several things related to Metalocalypse and Dethklok. After discussing hosts Joshua Toomey and Ro Kohli's "takeaway" from Some Kind of Monster, Small dug into his history with it.
Specifically, he explained:
That documentary was an important part of the genesis of Metalocalypse because it came out around the time when we were developing it anyway, and heavy metal was seeing this kind of major resurgence, or at least I was seeing it from where I was sitting. That movie showed something that was really important.

By the way, preparing to make a show like 'Metalocalypse' – I tried to do as much research as I could. I tried to find every rock 'n' roll/heavy metal documentary about creativity and musicians. I think that's one of the best ones, and you get to see how ['St. Anger'] — love it or hate it — was made and what the trajectory was and what the crazy maze of logic that got us to this place. And you also got to see a band that was incredibly famous, and it's hard to have a reason to make a record, I think, even after your first one.
Elaborating on that idea, he continued:
Like, how do you – like, you've got enough material for your first one, and the rest of 'em is, like, "What are we gonna do now? How are we gonna make any of this stuff work?" And you got to see Metallica go through all that stuff and have to audition a new way of communicating with their own band.

Or, they were all gonna lose each other, because [former bassist] Jason Newsted walked out and they were a little confining and – I'd say – jealous of, like, any other projects. But they came back and they're still together and they found Robert Trujillo, and Robert Trujillo is a monster. And Jason Newsted gave so much to Metallica as well. It's brutally honest, and I think that takes guts — just crazy guts.
READ MORE: New 'Metalocalypse' Movie Trailer + Dethklok Song Have Arrived
Naturally, Toomey and Kohli agreed, prompting Small to add:
Metallica is such a monumental band to me because they were inventing their own genre as they went, and when I think about the ultimate Metallica, [I think of] 'Master Of Puppets' and '…And Justice for All' because that's the age that I was when I was discovering heavy metal.

'…And Justice' just came out, and so I could not believe this, like, through-composed, non-repeating kind of maze of riffs that were just all one compelling idea or ideology of one riff to an iteration of another, to another, to another, to another. And that, to me, is some of the coolest – and such creative and melodic and brutal and, you know, tumultuous thrash/epic metal all in one place. And then the 'Black Album' comes out, and [it's] like, "Okay, let's bring this to everybody." So, Metallica, without a doubt, is like a huge influence to the sheer notion of Dethklok and 'Metalocalypse.'
That's certainly an interesting way to view Some Kind of Monster and Metallica's trajectory, right?
Speaking of Metalocalypse and Dethklok, the first trailer for Metalocalypse: Army of the Doomstar (which arrives digitally next Tuesday, Aug. 22) and the first single from Dethalbum IV ("Aortic Desecration") debuted this past June. You can view both here.
If you haven't already, be sure to check out Small's recent chat with Full Metal Jackie, too, and keep an eye out for Dethklok's upcoming tour dates alongside Babymetal (billed as "The Babyklok Tour 2023"). You can see the full list of dates here and grab tickets here.
As for Metallica, their 1987 covers EP, The $5.98 EP - Garage Days Re-Revisited, was cited as one of Corey Taylor's all-time favorite records. Elsewhere, producer Greg Fidelman dug into how he and the quartet sorted through Kirk Hammett's 700 riffs for 72 Seasons.
Of course, Metallica's "M72 World Tour" is still going strong, and you can check out the remaining dates here as well as purchase tickets here.
Brendon Small Discusses Metallica's Influence on Metalocalpyse on the Nu Pod Podcast (Aug. 12, 2023)
See Photos From Metallica's 2023 North American Tour Kickoff
Photos from the first night of Metallica's North American tour with Mammoth WVH and Pantera.